In times of uncertainty, it is important to keep your team spirit high and minds clear. It's so easy to get laid down with negativity and chaos. The best way to re-build and revive is through a company retreat, and what better place to do this than the beautiful Suffolk Countryside.
With stunning gardens, an incredible backdrop and acres of land to help you escape, Woodhall Manor is the ultimate place to relax and unwind, bringing peace to your team. We have many ways to help with your business retreat, all you have to do is turn up, enjoy and let us help breathe some life back into your company's creative flow.
Why Woodhall Manor for your Business Retreat in Suffolk?
The beauty of Woodhall Manor is that it's exclusively yours for your stay. No interruptions, just you, your team and the squirrels of Woodhall. We have the Ballroom for big conferences, The Blossom room for thrashing out ideas, cosy little nooks for private thinking and not forgetting acres of gardens for that all-important summer party. The ultimate location to hatch plans, mull over ideas, solve problems and celebrate accomplishments.
The Walking Meeting
A popular alternative to the traditional boardroom meeting is 'The Walking Meet'. You can stretch your legs and open your mind, whilst admiring beautiful scenery. There are so many stunning routes around the Woodbridge Countryside, some following in the creative minds of infamous authors. Enid Blyton, famous for the likes of Secret Seven and Famous Five stayed in the premises prior to writing her books. You couldn't be in better company than this talented story-teller.

Health and Fitness Retreats
Healthy body, healthy mind. Health and Fitness Retreats are perfect for encouraging a healthier lifestyle, which in turn improves the productivity and mindset of your team. Our talented chefs can create the ultimate healthy menu for you to enjoy over your stay. Dedicating dishes to personal tastes and requirements.
External fitness professionals can be hired into Woodhall Manor, to take you through various training techniques. Whether you are looking to take part in a bootcamp, enjoy an afternoon of Thai Chi or even take part in a competition of Welly Wanging, the possibilities are endless.

Yoga Breaks
Yoga and Pilates are hugely popular when it comes to a relaxing business break. It focuses the mind and clears any stress caused by external factors. Experts can take you through each session, adapting to all levels and bring the team together, whilst they focus on their own mindset.
Another alternative is to enjoy a couple days of meditation. Quiet, sedate and thoroughly relaxing. It may take some time for your team to focus, but once they have experienced the benefit of meditation, this is something you could use as part of your company's weekly ritual.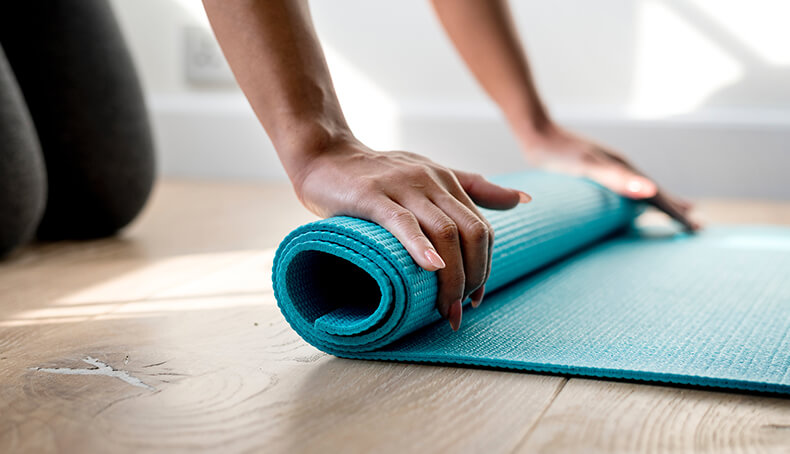 Time to chill
After your day of team bonding, relaxing and finding your inner creativity, we have sumptuous pillows, beautifully decorated bedrooms and modern facilities to help you switch off from work mode. It's so important that you have a good night's sleep during these kind of retreats, so you are refreshed for the next day.
Meet differently
If a business retreat in Suffolk isn't what you are looking for, we can also take the stress out of planning a meeting or conference. The facilities are there, along with great food for your lunch break, organisational skills from our team and an on-going flow of drinks and treats. Meetings can be far from monotonous at Woodhall!