A dry-hire wedding isn't entirely different to other more traditionally held weddings. The main difference is you will have more freedom and choice to do you!
A dry hire wedding is effectively where couples hire the wedding venue and provide their own caterers, bar and waiting staff, crockery, cutlery and glassware. It's a cost-effective option for couples who want to have complete control over their wedding day. Plus, most dry-hire wedding venues have a list of trusted suppliers that can make all of the above happen.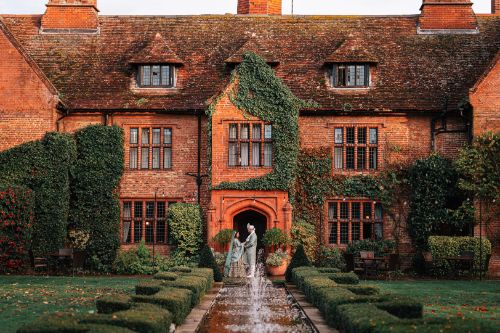 1. Set a wedding budget
When it comes to planning a dry-hire wedding, having a set budget is key. It is very important for couples to consider all expenses such as the wedding venue hire, supplier fees, decor hire, wedding outfits, entertainment, food and drinks.
By breaking down all aspects, prioritising spending, and allocating funds accordingly, ensures that couples stay on track with their spending. You don't want to be caught out on unexpected costs. You might want to factor costs for a wedding coordinator, catering team or equipment hire for your day.
At Woodhall Manor we charge for venue hire, with the option to add additional items such as staffing, linen, crockery, and glassware, making it one less thing for couples to think about.
2. No corkage fees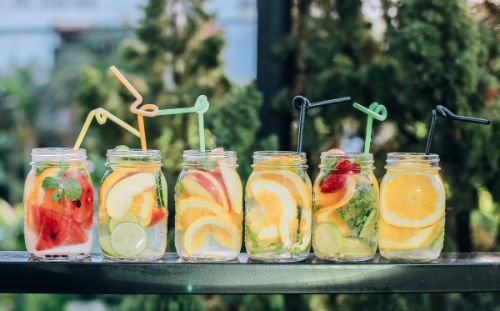 One of the great advantages of a dry hire wedding is being able to avoid corkage fees. Couples have the freedom to bring their own drinks and control beverage costs. In addition to thinking about what type of alcoholic drinks you would like, consider non-alcoholic bar options too, signature mocktails or the possibility of hiring a bartender to serve soft drinks and creative non-alcoholic concoctions. Your wedding guests will, for sure, appreciate the thoughtfulness and variety of drinks that are on offer.
3. Food, Food, Food
Food is one of the most important aspects of any memorable wedding. It's important to research different catering options that suit your style and budget. The type of food you serve is important whether you opt for, a sit-down meal, buffet food or food trucks. There are many catering companies to consider and this gives couples more flexibility and the ability to cater to different cuisines, dietary requirements, and preferences.
4. Styling the venue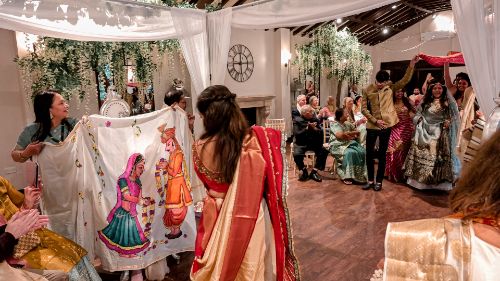 One of the additional benefits of dry hire venues is that you have the opportunity to transform your blank canvas into your dream space. Being able to personalise the venue however you wish to do so, and allowing your imagination to run wild.
There is so much to think about from choosing a wedding theme, colour scheme and renting essential items such as tables, chairs, linens, lighting, and decorative elements to create the right ambiance. DIY decorations can add a personal touch but do require enough time and support to bring your vision to life.
5. Gathering suppliers insurance
The final top tip for planning your dry hire wedding is to ensure you have insurance in place and so do your suppliers. This includes public liability insurance, PAT testing certificates, and hygiene certifications. These are really important in case you encounter any unexpected problems with your suppliers and this ensures they are complying with the venue regulations too.
Planning a dry-hire wedding allows you to curate a truly personal celebration. Remember to manage your finances wisely, explore creative options for food and beverages, style the venue to reflect your vision, and prioritise gathering insurance from all suppliers. Embrace the freedom and creativity that comes with planning a dry-hire wedding and make it a day to remember.
If you are looking for the dry hire venue for your dream wedding, get in touch with our friendly team at [email protected]. Don't forget to take a look at our wedding checklist to help you with your wedding planning,current amazing offers for this year, and our Pinterest for a world of wedding ideas.