For some, planning an Indian wedding can feel like a Bollywood-sized production, yet for others, it's a simpler affair. Regardless of size and scale, it's important to think ahead to ensure things run as smoothly as possible.
Whether you and your partner are Sikh, Muslim, Hindu, or Christian – or perhaps a combination of mixed heritage – there are often important cultural factors that you will both be considering to ensure you both create your dream day personal to you. To help you navigate this exciting adventure, we have created a wedding planning checklist, to help you through it all.
We suggest starting your plans around one year before your special day and ensuring your checklist takes you right up to the night before and even up to the day itself.  It is time to grab a cup of tea, sit back, and embark on this unforgettable journey.
One Year Before The Wedding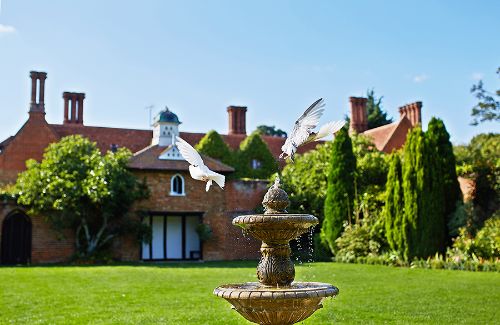 This marks the beginning of your wedding planning adventure. The time to set the stage for a truly memorable occasion. The first few wedding preparations include:
Choosing an auspicious wedding date that holds significance to both you and your respective families.
Establishing a realistic wedding budget.
Putting together a guest list – taking into account family, relatives, friends and community members.
Researching and visiting potential wedding venues that align with your vision and accommodate your guest list.
Brainstorming wedding themes and décor ideas that represent your cultural heritage and personal style for both your wedding ceremony and wedding breakfast.
Seeking guidance from religious/cultural leaders to understand and plan your traditional wedding rituals and ceremonies.
Starting to explore options and book essential suppliers for your big day – e.g. a caterer, wedding photographer and videographer.
9 Months Before The Wedding
This is when things start falling into place and taking shape. Around this time you might like to:
Finalise your guest list and gather contact information to send out formal wedding invitations. Alternatively, create a wedding website to track guest attendance.
Secure your perfect wedding venue that resonates with your vision, culture, and desired capacity.
Book wedding insurance as soon as your venue is booked. This will provide peace of mind in case something happens between now and your wedding day.
Choose and order your wedding outfits, deciding whether they reflect your cultural heritage or rather, your personal taste.
Choose a caterer specialising in Asian cuisine or another type of food that appeals to you.
Research and book a Mehndi artist or any other specialist suppliers.
Explore entertainment options such as live bands, DJs, or traditional performers and lock these in for your wedding day (attend some wedding events to help give you inspiration and ideas).
Start researching your possible honeymoon destination and begin planning it.
6 Months Before The Wedding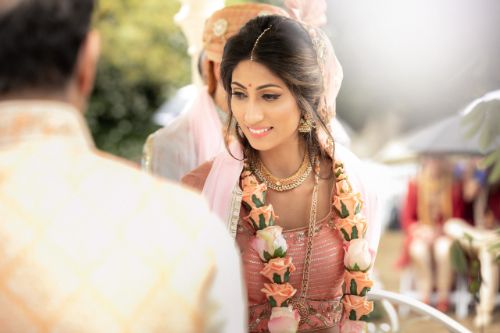 With the halfway mark in sight, it's time to transform your vision into tangible preparations.
Schedule appointments with tailors for fittings and alterations, ensuring a perfect fit for the bride's wedding dress and groom's outfit.
Finalising the catering menu, carefully selecting a delectable array of dishes after having a sample tasting menu.
Finalising any detail for your Mehndi/Henna artist bookings and plan any other accompanying celebrations.
Diving into the enchanting world of wedding décor, including floral arrangements, lighting and stage setups.
Meeting with religious or cultural leaders to discuss and finalise the details of your wedding rituals and ceremonies.
Exploring different transportation options for the wedding day and making necessary arrangements.
3 Months Before The Wedding
As the anticipation builds, it's time to bring your plans to life and tie up loose ends.
Coordinate with suppliers to confirm bookings and provide them with necessary details.
Finalise your wedding day timeline and running order – share it with suppliers, family members and the bridal party.
Complete any remaining alterations or fittings for your wedding outfit, ensuring it's absolutely flawless.
Organising the marriage license and fulfilling all necessary legal requirements.
Collaborating with your chosen venue to finalise the setup, seating arrangements, and other logistical details.
Prepare wedding favours and gifts, purchase wedding rings and any other personalised items.
Book your pre-wedding photoshoot to capture the precious moments before your wedding day.
1 Month Before The Wedding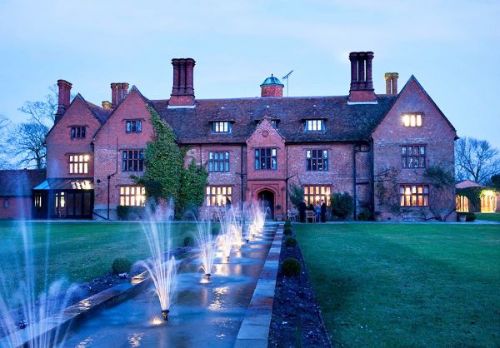 The final countdown begins with the excitement palpable, it's time to put the finishing touches in place.
Follow up with guests who are yet to RSVP and finalise your wedding list.
Confirm all details with your suppliers, ensuring they are fully prepared for your special day.
Schedule a rehearsal dinner to go over the ceremony details with the wedding party.
Pack an emergency kit with essentials like safety pins, tissues and extra lipstick for any unforeseen mishaps.
Prioritise self-care such as relaxing spa treatments, lots of rest and quality time with loved ones.
1 Week Before The Wedding
The moment is almost here and as the days dwindle down, it's time to embrace the joyful anticipation and take care of last-minute details.
Confirm all final details with suppliers, including delivery times and locations.
Have a final fitting for your wedding outfit, making any necessary adjustments if they are required.
Prepare a detailed wedding day itinerary for yourself and the bridal party.
Delegate tasks to trusted immediate family members and friends, allowing yourself to fully enjoy the festivities.
Take some time for yourself to relax, reflect, and savour the upcoming moments of love and joy.
Night Before Wedding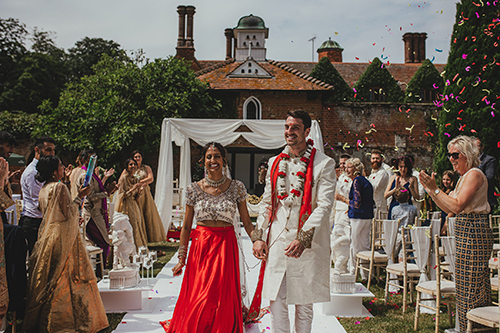 As the sun sets on the evening of your wedding day, it's time to bask in the beauty of the moment.
Gather with your loved ones for a rehearsal dinner, and embrace all the excitement and joy.
Lay out your wedding outfit, ensuring everything is ready for the morning.
Get a good, early night, allowing yourself to wake up refreshed and ready for the magic to unfold.
Take a moment to reflect on the love that brought you to this day and the incredible journey that lies ahead.
Trust in the planning you've done and let yourself be carried away by the enchantment that awaits.
Planning an wedding is a remarkable adventure and we hope this checklist has inspired and guided you every step of the way. Remember to embrace the process, stay organised and most importantly, enjoy the moments leading up to your big day.
Take a look at Woodhall Manor's current special offers, and top tips for planning a stress-free Asian wedding.
For more information on booking your special day at Woodhall Manor, please contact our team on [email protected].