The discussion here at wedding venue Woodhall Manor has been all about fun and quirky wedding ideas for the summer. We've all been looking forward to warmer weather, longer days and outdoor ceremonies.
We're picturing chill-out areas on the lawn, ice-cream carts in the courtyard and petals filling up the Dovecot aisle. So, make the most of your summer wedding with a few of our favourite ideas.
1. Flower wall
A beautiful statement piece, flower walls add to the romance of your day. Many couples have used them as a backdrop when their exchanging their vows, leading to charming photos in their wedding album.
You could even add some props and turn it into a pop-up photo booth for your guests. For more floral weddings ideas for the summer, check out at our blog Selecting Your Wedding Floral Arrangement.

2. Outdoor games
Put down the iPhones and go play! Take your guests back to a time where games were played face-to-face in the great outdoors.
They'll be fun and laughter over toppling Jenga, giant Noughts & Crosses and a spot of Croquet. You can always talk to our expert planners for more fun and quirky wedding ideas for the summer.
3. Summer survival kits
One of your guests forgotten their sunglasses? No problem! Keep your guests happy with a summer survival kit. You can add anything you like, a mini bottle of sun-cream, flip flops for their dancing feet, or even a bottle of natural bug-repellent. Not only will your guests feel more comfortable, but they'll also stay safe in the sun.
4.  Ice-cream canapes
Who doesn't love ice-cream? A delightful alternative to traditional canapes, ice cream cones just scream summer fete. These sweet treats will help keep your guests cool on those warm sunny days – and will certainly keep the kids happy! Grab a cone and sit back into one of our super comfy Big Burtha bean bags.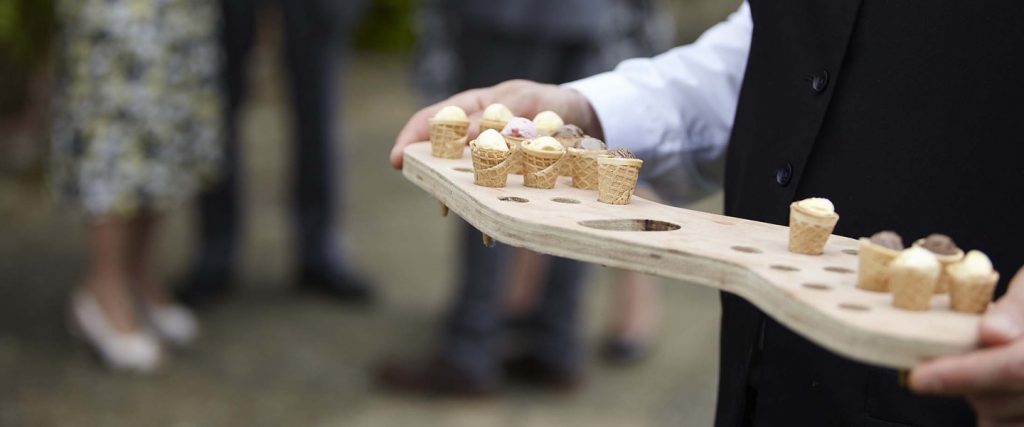 5. Bouncy castle
A must-have for a summer weddings, bouncy castles are fun for kids and grown-ups alike. They can provide you with some hilarious moments that you will remember for a lifetime. We talk to great external companies who have plenty of wedding-themed bouncy castles, so you can be sure they will fit in with your decor for the day.
6. Doughnut wall
A fun and relaxed alternative to traditional wedding favours or even wedding cakes – doughnut walls are a quirky addition to any summer wedding. These can be placed inside or out and can become a complete feature all on their own.
Many couples request they be decorated with pretty foliage or blooms, leading to some spectacular installations. For more quirky wedding ideas for the summer read our blog Alternative Wedding Cakes Inspiration.
7. An outdoor ceremony
There is something so magical about an outdoor ceremony. If you've always dreamt of exchanging your vows while surrounded by nature, then our dovecot is for you. Licensed for up 200, the Dovecote provides an enchanting backdrop within the Walled Garden. For an extra dose of enchantment, we can set up our beautiful blossom trees to sit along the aisle.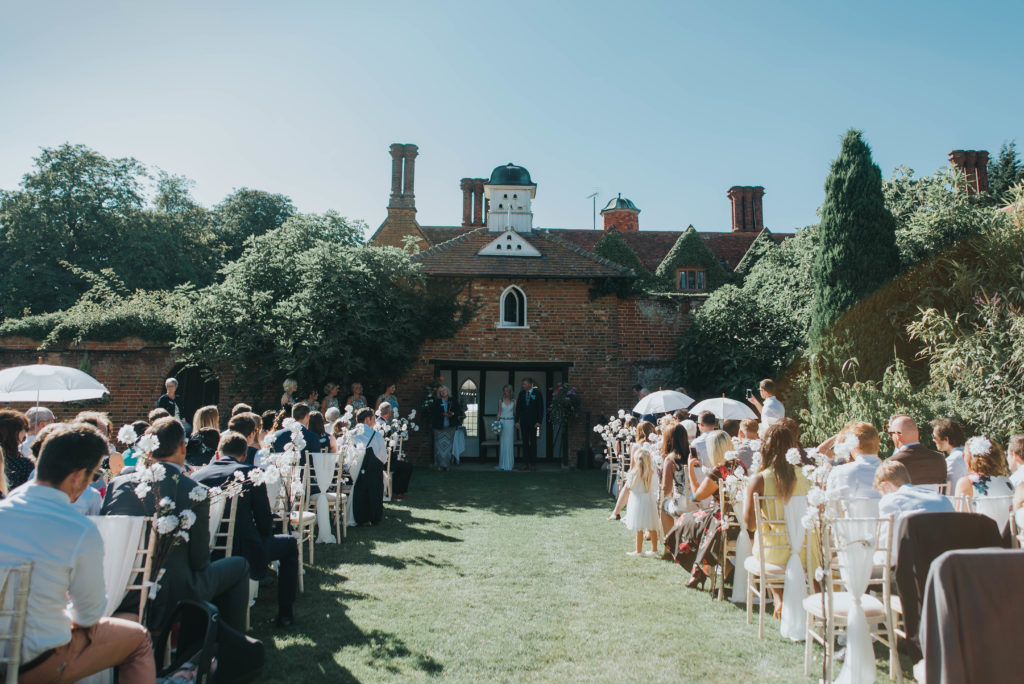 8. Pick 'n' mix cart
A great conversation starter – wedding guests love discussing their favourite childhood sweets at the pick 'n' mix cart. You can just picture your Auntie Mabel swapping a sour bon-bon for a sticky toffee éclair with your niece or nephew.
Beautifully decorated with pretty bunting, these sweet carts bring a real summer fete vibe to your day. For a more adult cart, we have summer cocktail stations. Think giant jugs of fresh, custom cocktails with all the garnishes. There are more food and drink ideas in our blog 'Food Lovers Wedding! How Do You Eat Yours?' (https://woodhallmanor.com/2018/05/food-lovers-wedding/)
9. Magic mirror
Let your guests loose with our Magic Mirror. Complete with props, on-screen animations and a beauty light – your friends and family can get inspired with their group photos.
Touch-screen activated, the magic mirror also allows your guests to sign their creations. Once the photo is taken – a print-out is available to take away instantly.