Choosing the perfect wedding venue for your special day is undoubtedly an important decision that can significantly impact its success. Dry hire venues provide a blank canvas for you to create a personalised wedding that's entirely of your choosing.  Forget off-the-peg packages and carbon-copy weddings, dry hire is all about you. However, before finalising your choice it's essential to ask the right questions to ensure the venue aligns with your vision, expectations and requirements.
Woodhall Manor is a beautiful exclusive hire venue located in Woodbridge, Suffolk, offering dry hire weddings between Mondays to Wednesdays. Take a look at our virtual tour to get a feel for the venue.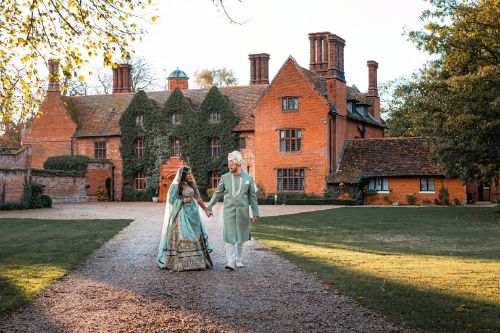 What is the cost of booking a dry hire wedding?
Understanding the cost of the venue is essential for planning the rest of your wedding budget effectively. Make sure you ask about the cost of the venue hire, and also any additional charges such as security deposits in case of damages and whether there are different rates for peak and off-peak seasons. Other things worth asking are how much is the reservation payment? What is the payment schedule? Do you have any terms and conditions – such as a cancellation policy?
(At Woodhall Manor, the prices vary depending on the day of the week and the time of year. To secure your wedding date with us, there is a £500 reservation payment, with a further £500 payment the following month. The remaining balance is split between when you confirm the booking and your wedding date).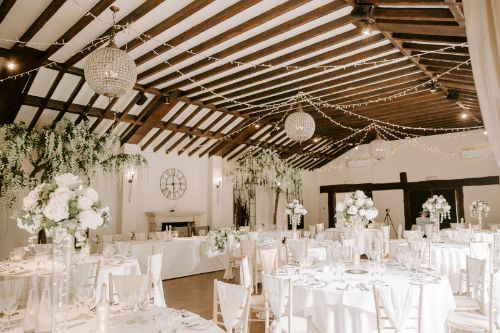 What is included in the price?
It's vital to ask what's included within the price you are paying, as you don't want to assume. How many guests are included? Are chairs and tables included? Sound system for music? Cake stand and cake knife? Not all venues will offer the same, so it is better to check.
(At Woodhall Manor, the cost of dry hire includes the shell of the venue, indoor and outdoor chairs, tables, and full use of the kitchen. For an additional fee, we are able to add on additionals such as staffing, linen, crockery, cutlery and glassware).
Is the venue licensed for civil ceremonies?
If you plan to hold a ceremony at the venue, ask if their venue is licensed to hold ceremonies and for more about their available ceremony spaces. Discuss whether they have dedicated areas or if you can transform the main event space for the ceremony. Enquire about any restrictions or guidelines for ceremonies, such as the capacity, decor possibilities and timing constraints.
(At Woodhall Manor, we have both indoor and outdoor ceremony options available. With the outdoor ceremony space of the Dovecote, indoor spaces of The Cherry Blossom, Ballroom, or Manor for intimate weddings).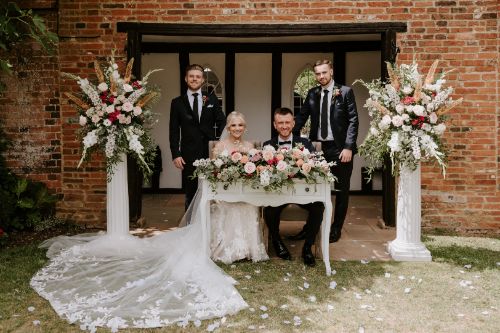 Is there a separate room for the wedding reception?
It's always worth asking about the different options and rooms available to use for your wedding day. Will there be a room turnaround? Are there different spaces to use for the ceremony and wedding reception? Can the venue accommodate extra guests in the evening? Asking the questions enables you to picture whether it is the perfect venue for you.
(At Woodhall Manor, we have the Ballroom which works perfectly for the wedding breakfast, before moving into the Garden Lounge as your reception room for the wedding party).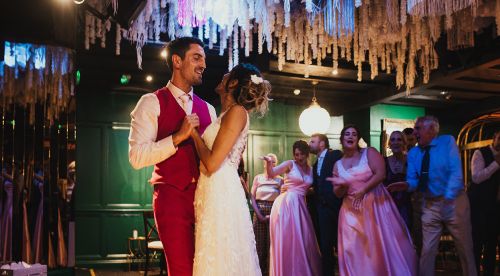 Can I bring external caterers in?
Ask the venue about their catering policies and any restrictions on bringing external caterers in. For example, do external suppliers need to be approved or recommended by the venue first. Are there kitchen facilities and equipment they're able to use? What insurance policies are needed? What are their access times? Along with any rules they must follow such as disposing of rubbish.
(At Woodhall Manor, we welcome couples to use external caterers with our dry hire wedding collections from 11 am to midnight, as long as they leave everything how they found it).
Are there any restrictions on entertainment?
Discuss the venue's policies regarding music and entertainment. Enquire about their sound system, whether they have any noise restrictions, and if they provide any audiovisual equipment. If you plan to have a live band or DJ, ask about their requirements and any limitations on volume or performance hours. If you are planning on having Dhol players or live musicians, ask about the venue's requirements regarding these too.
(Woodhall Manor allows live entertainment and DJs up until midnight, however, there is a noise restriction of 90 dbz. We also allow live musicians and Dhol players during Asian weddings).
What styling options does the venue offer?
Discuss the venue's styling possibilities to ensure it aligns with your event theme and vision. Ask about the available decor options, such as furniture, lighting, linens, and table settings. Enquire about any restrictions on decor choices and whether they have preferred wedding suppliers or recommendations for styling services.
Selecting the right dry-hire venue is crucial for creating a memorable event that reflects your style and preferences. Take the time to visit multiple venues, ask as many questions as you need, and compare the answers to find the perfect location for your event.
For more information on dry-hire weddings, take a look at our top tips for planning a dry-hire wedding, or contact our wedding planning team at [email protected] for more information and a private tour.