Whether you are planning a micro wedding or perhaps you are in the first stages of your wedding journey, and you have never heard of the concept before, in this post we are going to take a closer look at micro weddings so you know all the latest trends, tips and tricks when it comes to this smaller variety of wedding.
Did you know that we have COVID-19 to thank for the boom in micro weddings? Every cloud, as they. During the pandemic, it became difficult for some couples to wed.  It was a day they had spent months or years planning before suddenly being faced with having to reduce guest numbers.
When restrictions started to lift, micro-weddings began growing in popularity. Couples were choosing to have a micro wedding ceremony with 10-15 guests, inviting only their closest family and friends.
Later, once restrictions were lifted, some couples would then have a second ceremony and wedding celebration with extended friends and family. These are known as sequel weddings and are still popular to this day.
Whereas, traditionally, intimate weddings aren't as small as micro weddings, instead these have around 30 guests. These are some of the most popular types of weddings at Woodhall Manor.
Woodhall Manor is an exclusive-use wedding and event venue and we are very lucky to be located near the Suffolk coast and surrounded by beautiful countryside. There are so many ceremony spaces for couples to choose from including the Dovecote, Cherry Blossom or popular Manor House.
If you are a bride or groom-to-be and looking for some advice, here are some micro-wedding ideas to help you with your wedding planning!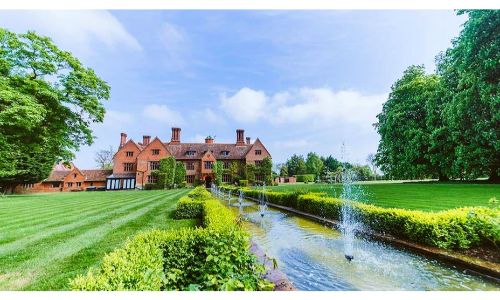 1. Managing the Guest list
If you have chosen to have a micro wedding, one of the next steps is to decide on a wedding date and guest list. It takes time to work through who you would like to join you for your wedding day and you want to make sure that you have a good idea of numbers before sorting out the rest of the wedding plans and budget.
This may involve not inviting partners, to keep your guest list to under 20 guests, but by allowing them to join via Zoom. One of our top tips would be to send out save-the-dates in advance, ensuring that your selected few guests can definitely be there on your special day.
2. Venue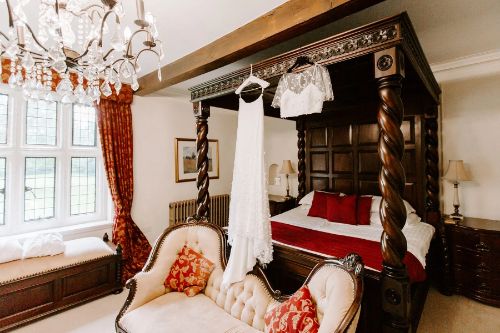 Choosing your wedding venue isn't always the easiest as there are lots of different options to consider. One of the massive advantages of micro weddings are that they can take place pretty much anywhere. Whether that's on a beach, in a park, at a favourite restaurant, or in a Manor house – the choices are endless.
3. Personalisation
With a smaller wedding it can make it a lot easier for couples to personalise their day to the max. From creating handmade wedding invitations to personalised wedding cakes and floral arrangements made yourself or meaningful personalised handwritten notes for each guest.
You may even choose to create your own wedding favours, name cards, menu cards and table numbers. Without having to make hundreds of everything, you can focus on what makes you the happiest, allowing guests to keep the items for years to come and to remember your special day.
4. Dress Code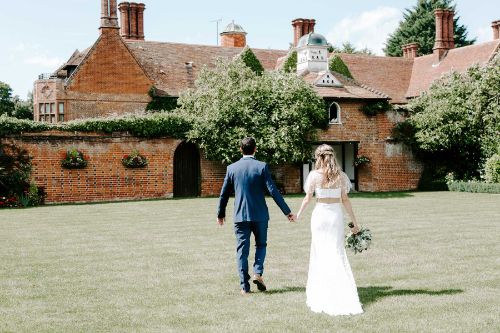 Micro weddings can give you more flexibility and freedom with your dress code. Whether you would prefer traditional wedding attire, black tie, glamourous, casual, colourful or even fancy dress, the choice is completely yours! Why not have multiple wedding outfits and change throughout the day.
5. Wedding Vendors
With an intimate wedding celebration, you may choose to do a lot of the wedding planning and preparation yourself. Such as flower arranging the night before with your bridal party, or setting a designated groomsman to act as your wedding photographer for the day to save money.
At Woodhall Manor, you will be assigned a wedding planner, who will be happy to assist with recommending suppliers perfect for micro weddings – from florists, musicians, and photographers, to accommodate your micro wedding needs.
6. Communication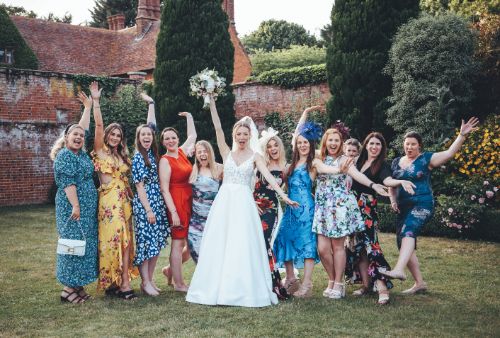 As your guest count for the day will be lower it is easier to communicate with all of your guests about arrangements for your day. This allows your day to be relaxed and for your guests to be involved, supporting you in little ways. Who wouldn't want less stress when planning your big (but little) day.
7. Go Extra!
Why not add all the extras on your wish list? From signature cocktails during your drinks reception to a magician or entertainer, live painter, caricature, or live musician?
Your wedding venue may also be able to assist with upgrading food and drinks and supplying additional decorations to your day, from ceiling fairy lights to a photo booth, garden games, or live music throughout the day. After all, it is a once-in-a-lifetime day, so you want to ensure it is the dream wedding day that you hoped for.
There are so many benefits of having a micro wedding, from saving money to having fewer guests so you can spend more time with your loved ones and not having to speak in front of big groups of people.
If you are looking for the perfect micro wedding venue to hold your intimate wedding ceremony, take a look at the beautiful Woodhall Manor, and our special Intimate By Day, Party By Night offer.
For more information and pricing, contact our friendly wedding planners on [email protected] or 01394 411 288.