Sometimes, but not in all cases, Asian weddings might be larger in size and involve more ceremonial detail than perhaps other types of weddings. This usually just means more planning is needed, and this extra detail does of course result in an even more exciting and memorable occasion. However, organising an Asian wedding for the first time can be quite daunting for some couples. From managing the guest list to booking the venue and arranging catering, there's also the crucial aspect of finding the perfect décor and styling for your wedding.
Asian weddings are known for their bold, vibrant, and lavish aesthetics, with a particular focus on exquisite floral arrangements. While Indian weddings often feature red, gold, and orange as the main colours, Chinese weddings lean towards red, gold, and pink. Couples therefore might invest significant time and resources to ensure that their décor matches their dream.
At Woodhall Manor, we have the privilege of hosting a variety of Asian and multicultural weddings throughout the year. Located near the Suffolk coast, our exclusive-use wedding venue can accommodate up to 300 guests without the need for a marquee. Our experienced wedding planners are well-versed in organising multicultural weddings and can provide you with a list of recommended suppliers to streamline the planning process.
To help inspire and guide you in planning your dream wedding, we've put together a list of ideas specifically tailored for traditional Indian weddings: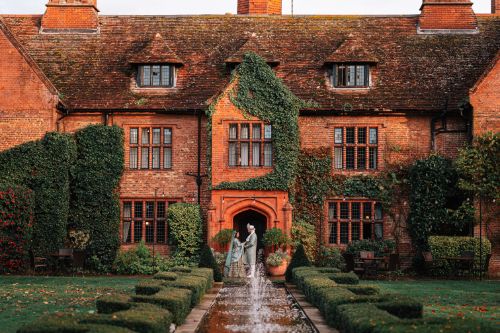 2023 Wedding Trends
Stay up-to-date with the latest trends in Asian wedding décor for 2023. Consider incorporating grand floral displays, such as impressive entrances adorned with floral tunnels, and experiment with colourful and textured linens, intricate centrepieces, vibrant glassware and candles, customised menus, and creatively styled napkins.
Bold colours like red, gold, and maroon continue to dominate Indian wedding décor trends, along with the rising popularity of open-style wedding mandaps. These mandaps, featuring a traditional square shape, provide guests with better views of the ceremony. Take a look at different mandap designs, from metallic arches to garden pavilions or metal structures, to see what you prefer.
Another emerging trend is the use of mixed metals in décor, including gold, silver, copper, and rose gold. Incorporate these metals into centrepieces, table settings, and wedding signs to add a modern and sophisticated touch to your venue.
Being sustainable and eco-friendly is another important consideration for many couples. Explore the use of reusable and biodegradable items, such as eco-friendly confetti, using recycled paper for wedding signs, and using energy-efficient lighting options, to minimise the environmental impact on your big day.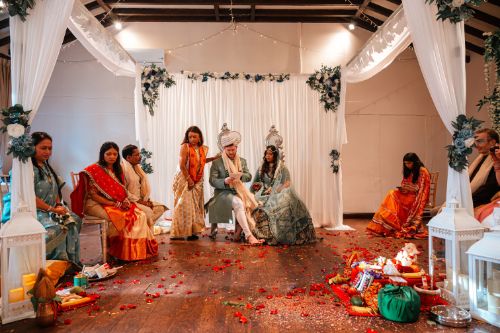 Wedding Themes
Consider choosing a wedding theme to streamline your décor planning process. Whether it's a seasonal theme like spring/summer or a colour theme centered around pink, white, or purple, having a specific focus can alleviate some of the stress associated with starting from scratch. You'll have a clear goal in mind and a direction to guide your choices.
Other theme options include incorporating cultural elements, such as traditional Indian motifs, patterns, or symbols, to infuse your wedding décor with a distinctly Indian flair. Explore themes inspired by nature, heritage, or even Bollywood, allowing your décor to reflect your unique love story.
Wedding Traditions
Mandaps are usually adorned with luxurious fabrics, flowers, drapes, and decorations, creating a sacred space for the marriage ceremony. Chinese weddings often feature decorative backdrops and symbols like dragons, accompanied by the traditional Chinese tea ceremony.
You might like to offer guests the option of wearing traditional attire at your wedding, such as saris and kimonos, to fully immerse themselves in the cultural experience. Incorporate Asian elements throughout the day, from outfits to decorations, cakes, and flower arrangements. Embracing these cultural nuances will add a meaningful touch to your celebration.
Just like many other traditions, many Asian weddings involve an outfit change during the day. Consider incorporating this practice into your wedding timeline to honour this custom and showcase different looks that reflect your personal style.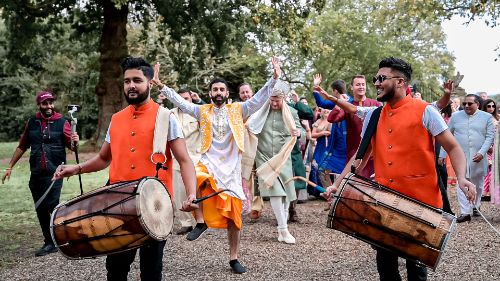 Venue Dressing
Before diving into bookings, take the time to research and gather inspiration. Create a Pinterest board or browse through wedding magazines to discover ideas that resonate with your vision. By having a visual reference, you can effectively communicate your preferences to suppliers and ensure a cohesive look for your wedding.
Sticking to your décor budget is essential, so be mindful of your spending. However, also be open-minded when selecting your décor options, as there may be creative and cost-effective alternatives that can still fulfill your vision.
Here at Woodhall Manor, we work closely with our recommended Asian wedding décor supplier, who are more than happy to help couples make their wedding day perfect in every way.
The Ballroom at Woodhall Manor is the perfect blank canvas allowing you to personalise the room however you wish. Whether you want to add colour, a beautiful mandap, or decorate with candles, your photos are sure to look stunning.
If you're considering hosting your dream wedding day at Woodhall Manor, don't hesitate to reach out to our friendly team at [email protected]. We would love to discuss and help plan every detail of your special day, making it an unforgettable experience for you and your guests.