Dry-hire wedding venues have become an increasingly popular option for couples planning their big day. It's an especially good choice for those who know what they like. Dry hire for those new to wedding or event planning, are when you hire a wedding venue as a blank canvas.
So, sprinkle your dream themes, styles, and magic, and make your wedding a truly unforgettable celebration. The possibilities are endless when you allow your creative eye to flourish up, down and around the entirety of Woodhall Manor.
Knowing where to start when you book a dry hire wedding venue might seem like a mountain to climb, but, if you enjoy the freedom and your first language is creativity, then dry hire was made for you.
Check out our five top tips on how to style your dry-hire wedding venue perfectly and you will be well on your way to styling a masterpiece wedding.
1) Let Your Imagination Take Flight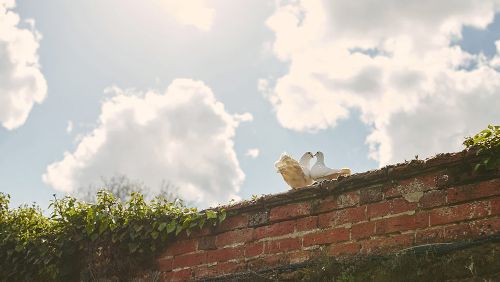 Imagine your dream wedding. What colours, themes, and atmosphere come to mind? Whether you envision a romantic fairy tale, a bohemian garden affair or a vibrant culture extravaganza, trust your instincts and let your imagination soar.
The key to styling a remarkable dry hire venue is to infuse it with your personality both as individuals and as a couple, including touches that convey aspects of your love story together. Go ahead, dream big, and let your creativity guide you every step of the way.
2) Embrace the Joy of Collaboration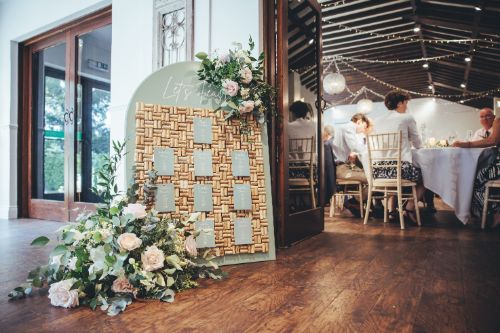 With a dry hire option, you have the exciting opportunity to curate your own dream team of suppliers. You can either bring along your trusted vendors or explore new ones who resonate with your vision. From talented florists to skilled decorators, photographers and caterers, select a team who can offer their expertise you need and turn your wedding day into a magical event made for you.
If you are up for the task, grab your wedding squad, rally around your mood board and plan your DIY decor. From homemade favours and table decorations to welcome signs and floral arrangements, you can create all the special touches you need.  Making your own decorations and little extras will be kinder on your overall budget, meaning more can be spent on your dream honeymoon, right?
From stylists to a full catering team, dry hire allows you to bring all of your chosen suppliers on-site, to work together to create your wedding experience.
(We have a selection of fabulous, trusted vendors who know our venue inside out. Many of whom are well-versed at creating magical weddings here at Woodhall Manor).
3) Set the Stage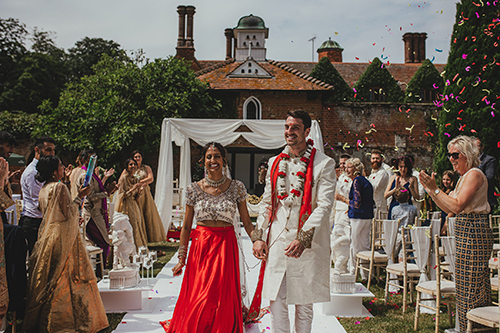 Whether your wedding theme includes an outdoor festival vibe with hay bales, drinks carts and bunting or a ceremony room filled with fresh flowers and a timeless colour scheme, this is your chance to take centre stage and design the day you really want. The ceremony is the focal point of your day so this might be an area of focus for your styling efforts.
For those planning an Asian wedding, the Mandap holds immense significance given its where your sacred union takes place. Picture a stunning Mandap adorned with vibrant fabrics, an abundance of flowers, along with super intricate details, hosted inside or outside.
Woodhall Manor has a range of spaces and rooms for you to style which is why our dry hire option is a firm favourite for those seeking a blank page to work with. Along with our fabulous wedding planning team, together, we can assist you in all your wedding styling and decor needs.
4) Blossom with Floral Elegance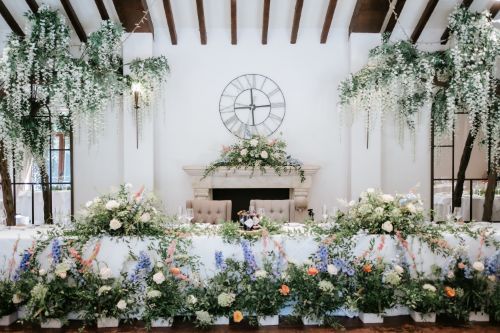 Flowers have a language of their own. They can transform a space, evoke emotions, and create an enchanting atmosphere. Imagine walking down the aisle, surrounded by a cascade of your favourite blooms, their delicate fragrance filling the air.
From romantic English garden arrangements to opulent Indian floral designs, let your chosen florist work their magic. Explore a vibrant palette, experiment with unique textures, and let the flowers become an integral part of your wedding's captivating charm.
5) Curate Mesmerising Tablescapes
A successful tablescape magic in the details. Picture your reception adorned with exquisite linens, shimmering tableware and stunning centrepieces. Let your imagination run wild as you mix and match elements that reflect your chosen theme.
Consider incorporating personal touches like place cards with handwritten notes, vintage family heirlooms, or even a touch of cultural heritage. Each table becomes a canvas where your visions come to life, and your table arrangements really speak to your theme and style. Here you can incorporate your colour scheme, theme and everything else to really make an impact.
As you embark on your journey of styling a dry-hire wedding, remember that this is your moment to shine. Trust your instincts, collaborate with trusted suppliers, and embrace the opportunity to create a wedding that is a true reflection of your style.
Now armed with our top 5 wedding styling tips, from enchanting English ceremonies to elegant Asian weddings with exquisite Mandaps and ceremony spaces, you can create a truly personalised wedding celebration that's made for you.
Together, we can support you in building a day that will be remembered for a lifetime – a day filled with joy, beauty, and cherished memories that will forever hold a special place in your hearts. To find out more, click here to see our dry-hire wedding collection and to speak to one of our expert wedding planners.