As the anticipation of the 2023 wedding planning season comes closer to its end, a fresh wave of wedding trends is poised to take centre stage in 2024. As we step into the upcoming year, Woodhall Manor, your exclusive Suffolk wedding venue, is thrilled to unveil the flourishing popularity of dry hire weddings. This trend allows couples to infuse their special day with the ultimate, personalised touch, and Woodhall Manor is here to cater to this growing demand, allowing couples to create a unique and tailor-made wedding celebration.
Within the enchanting countryside landscapes of Suffolk, here at Woodhall Manor we have our Dry Hire Wedding Collection, providing you with the perfect foundation for crafting an unparalleled wedding experience. Click here to explore our Dry Hire Collection and begin envisioning your dream wedding.
So, let's get to it, and delve into the top Dry Hire Wedding Trends for 2024.
1. Personalised Artistry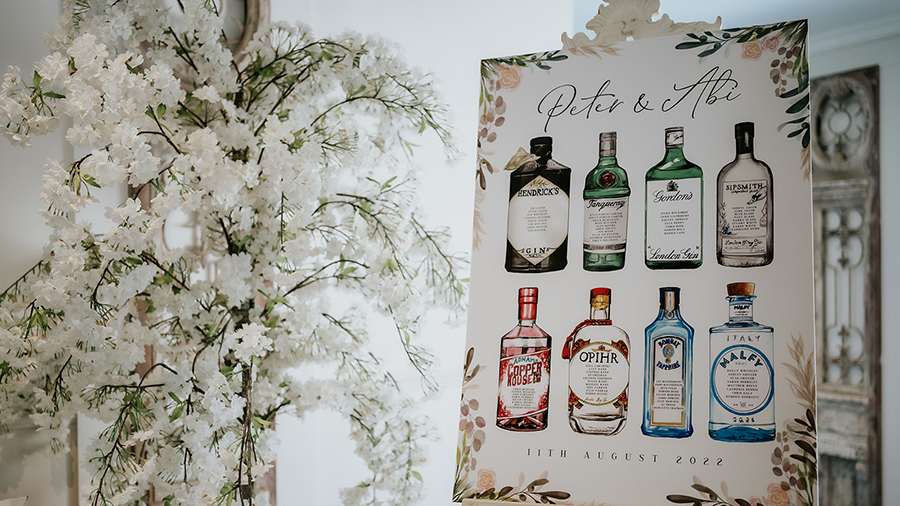 The year 2024 is destined to be defined by the celebration of individuality and the transformation of your wedding day into a genuine reflection of your love story. Dry hire weddings furnish an immaculate canvas, allowing your creativity to shine. Couples are opting for bespoke wedding embellishments, meticulously handcrafted centrepieces, and custom-designed signage that narrate the story of their unique journey. Beyond the artistic aspect, dry hire weddings offer substantial opportunities to manage your wedding budget effectively. Possibly allowing you to save some money and catch a flight to your dream honeymoon destination?
The allure of a dry hire wedding lies in the ability to tailor every element, from stationery and floral arrangements to ceremonial traditions and dining experiences. The stage is yours; let your imagination take over and create your dream wedding day.
2. Culinary Creativity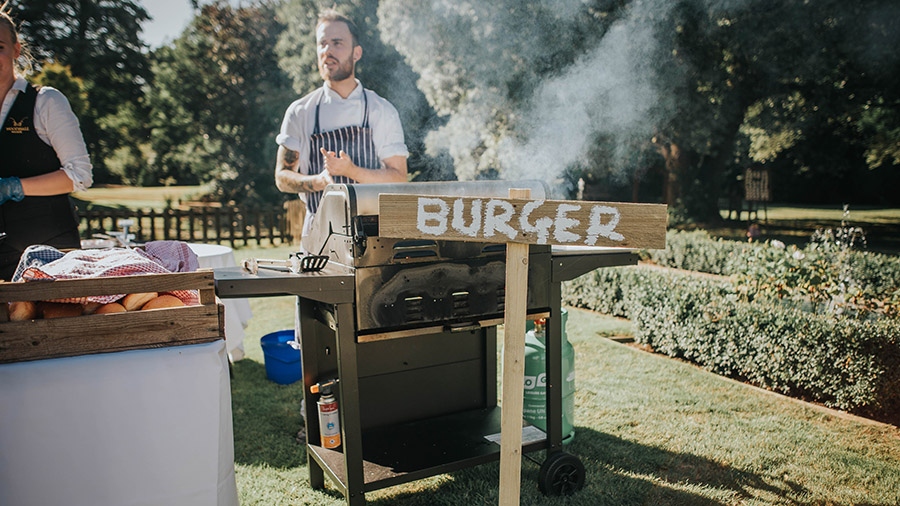 In 2024, culinary exploration will take centre stage, with couples delving even deeper into innovative catering choices. The rise of street food stalls and food vans add an element of diversity to your wedding catering. Beyond tantalising the taste buds, these culinary delights create a vibrant and interactive ambiance, ensuring that your guests depart with cherished memories and delectable flavours lingering on their palates. From cultural fusions and grazing feasts, to maybe even your favourite restaurant chef cooking up a storm, bring anything you like, the choice is yours.
Taking a step further, live theatre cooking and interactive dessert stations, such as flambé tables or chocolate fondue fountains around your wedding cake, elevate the dining experience, crafting moments of engagement and delight throughout your food options.
The beauty of a dry hire wedding is that the culinary path you tread is entirely your own.
3. Tailored Tipples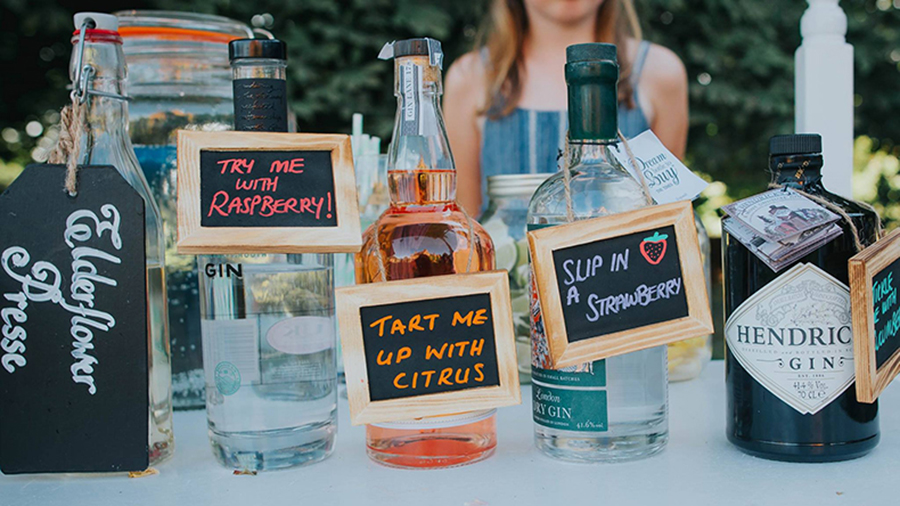 One of the standout trends of 2024 revolves around reimagining the conventional bar setup. Couples will be embracing the concept of enlisting professional cocktail artisans or introducing a rustic prosecco van (or wall), infusing an air of sophistication and convenience into their celebrations. Here at Woodhall Manor we have the perfect spaces for you to host your drinks reception, our walled rose garden sets the stage for the perfect outdoor soiree in the sun, or we have The Garden Bar! Suffolk's hidden gem and the cocktail bar of your dreams, ready for you to stock and pour till your hearts content at your wedding party.
While couple cocktails and mocktails remain a beloved tradition, a fresh twist is welcomed, inviting you to select your drink and infuse it with a personal touch. Also, the no corkage fees in a dry hire wedding liberates you to bring forth an ample supply of beverages, both spirited and non-alcoholic, with our fridges and bars at your disposal.
4. Limitless Freedom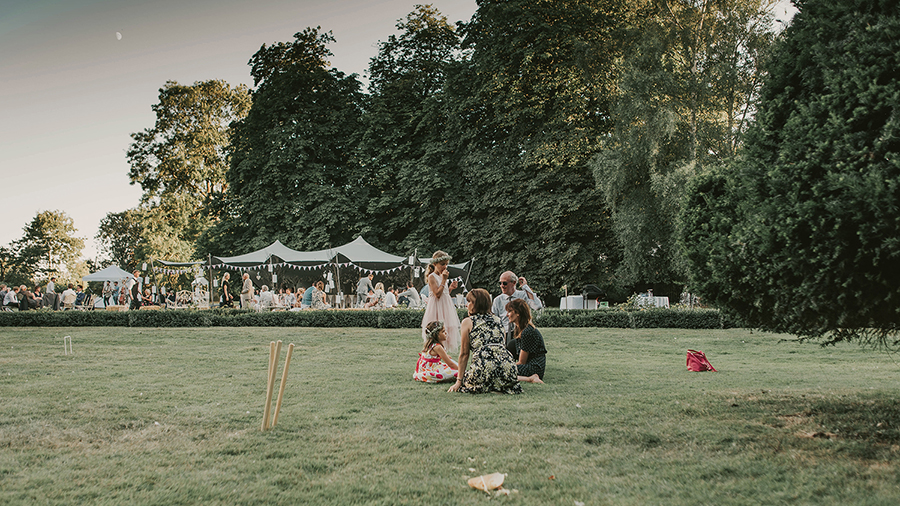 Unquestionably, the pinnacle advantage of a dry hire wedding lies in the freedom and flexibility it gives you. Your wedding unwinds precisely as you envision it. Woodhall Manor is the perfect spot, offering you a blank canvas for you to craft your dream celebration. With our manor and its idyllic surroundings as your backdrop, the power to shape every aspect of your wedding rests in your hands, ensuring a day that mirrors all your themes, styles and personalities.
5. Serenely Unique Ceremonies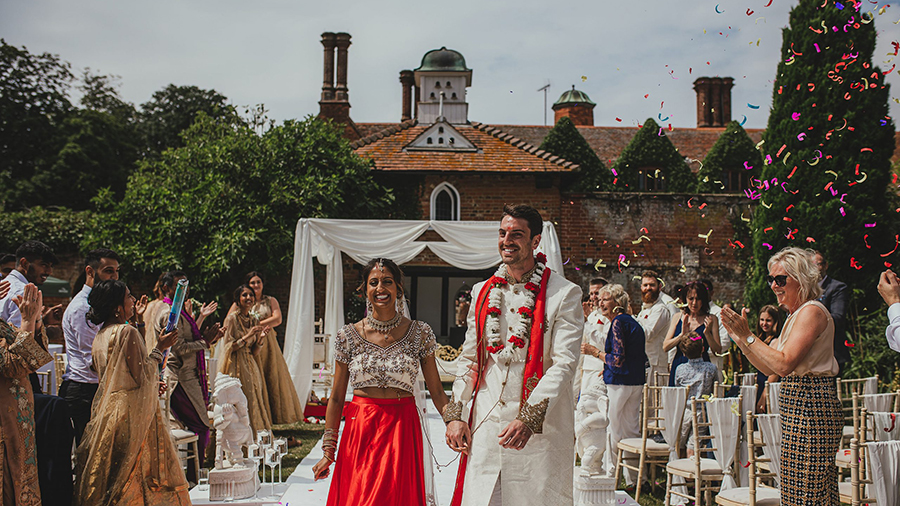 Couples are veering towards serene and unconventional wedding ceremonies in 2024. Many will opt for completing legal formalities at their local registry office, then back to Woodhall Manor for a profoundly personalised and heartfelt exchange of vows. Guests often assume the role of celebrants, guiding heartfelt vows that veer away from tradition. Walking down the aisle hand in hand symbolises a partnership rooted in equality and love.
The newest trend is the repositioning of your registrar or celebrant. Gone are the days of the officiant inadvertently photobombing your 'first kiss' image. Instead, consider having them stand within the aisle, allowing you both to gaze out at your loved ones, an intimate moment capturing the faces of those dear to your heart as your say your I-Do's.
6. Embracing Cultural Heritage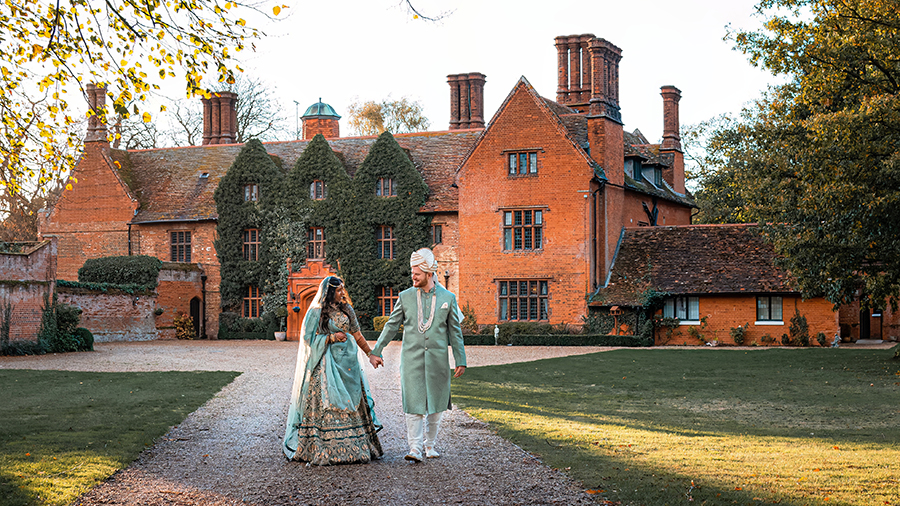 Dry hire weddings harmoniously accommodate couples wishing to celebrate their cultural heritage. Whether weaving in traditional customs, rituals, or cuisines, the flexibility of a dry hire wedding empowers you to interlace your cultural identity into every part of the festivities.
With our stunning indoor and outdoor spaces all available for you to style and conduct exactly as you wish, your Mandap, Chuppah, and any other religious stage you wish to set, will stand perfectly anywhere.
7. Eco-Friendly and Sustainable Weddings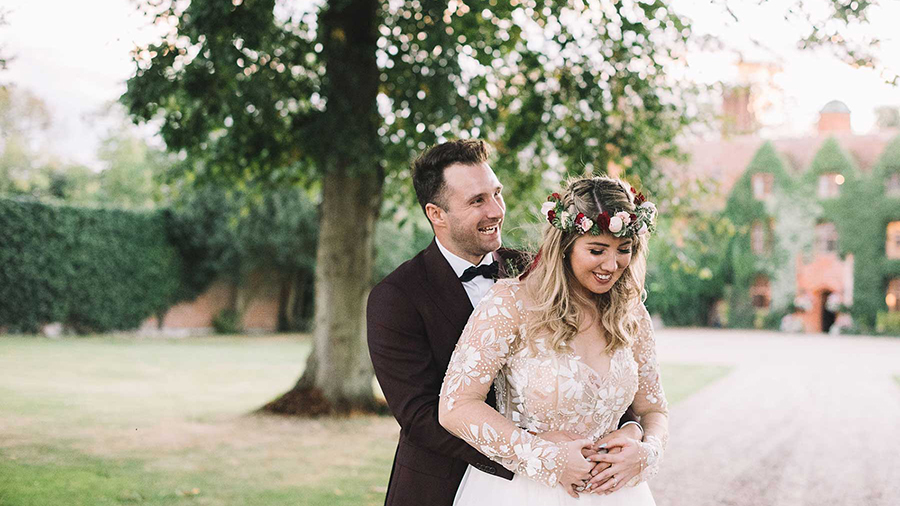 2024 ushers in a surge of eco-conscious couples seeking to imprint their weddings with sustainable options. As environmental awareness gains momentum, it's heartwarming to witness couples selecting a path that minimises their carbon footprint while celebrating love. From wedding decor choices and material selection to sourcing ethically sound food and beverages, every detail is thoughtfully curated to fashion a greener celebration.
Similarly, the embrace of vegan weddings continues to grow. A plant-based menu, sustainable embellishments, and eco-friendly favours collectively embody a lifestyle of compassion and mindfulness. Ethical fashion, waste reduction, and minimal ecological impact are seamlessly woven into the fabric of these weddings, leaving a positive imprint on the environment.
At Woodhall Manor, we are committed to allow the space for sustainable weddings. Our lush gardens extend an embrace to environmentally conscious ceremonies. We empower couples to seamlessly integrate sustainable practices throughout their event, encompassing locally sourced produce for catering, a reduction in single-use plastics, and the provision of recycling stations.
8. Enchanted Tipi Celebrations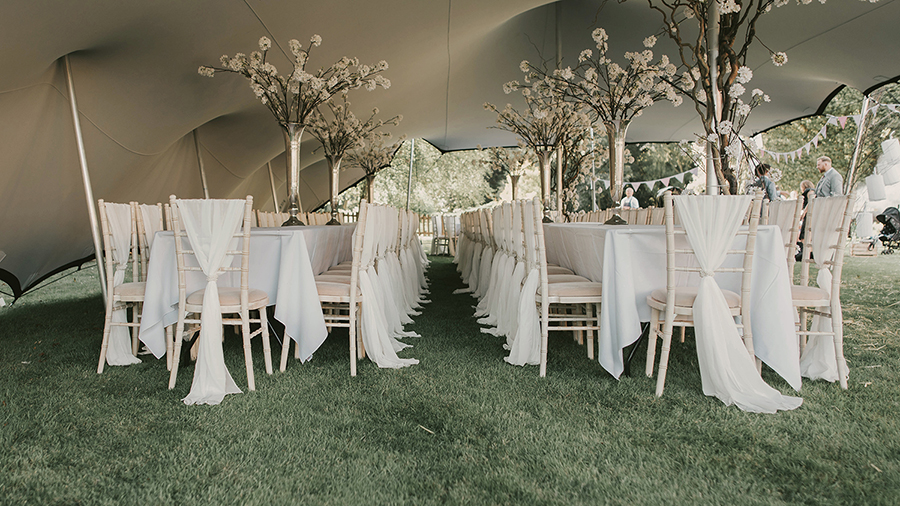 In 2024, the allure of nature interlaces with a hint of festival charm, as tipi weddings emerge as a prominent trend. Against the picturesque backdrop of Woodhall Manor's gardens, these enchanting structures lend a magical ambiance to your celebration. The sprawling banqueting tables nestled in the gardens create an intimate and warm setting, inviting guests to savour the delights of a meal beneath the sunlit sky and the twinkling stars, forging memories that linger a lifetime.
As the canvas of 2024 wedding planning starts to unwind, the increasingly popular, dry hire and do it yourself weddings storm through the wedding industry. We love see couples in the curation of an ultimate personalised wedding, and with these top wedding trends, you can now set the stage for an extraordinary celebration!
Woodhall Manor proudly stands as the perfect wedding venue offering a dry hire collection in Suffolk. Are you ready to embark on this bespoke wedding journey? Get in touch with us today to book your dry hire wedding.