So what is a minimony wedding? Think pre-wedding ceremony and make it mini, it's really as easy as that. A fast building trend that has taken a stance in this modern wedding industry world.
We saw the first glances of this new age wedding ceremony in the beginning times of COVID-19, with so much uncertainty and huge life events being postponed all around the world, people started to get creative with their nuptials. Essentially creating a mini-sized version of their big day, on their original wedding date, inviting only a select few guests and abiding to social distancing rules. So what was born was The Minimony!
Mini vs. Micro
Much like a Minimony, there are also micro weddings, but they are not to be mixed up, the only thing they share in relation is their size. A micro wedding is your actual wedding day but small and intimate, a Minimony is a pre-wedding ceremony to add onto your celebrations plus a second bigger wedding as well! What's not to love about that?
I-Do: The Sequel Wedding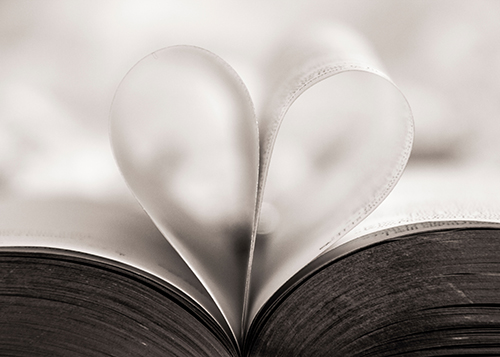 Nothing says a truly a never-ending love story like having two weddings!
Stepping away from the traditional to-do's and opting for a minimony wedding and then another large wedding is certainly different, but in all the best ways. Whether you have chosen to have both or something has come up and forced you to move your full scale wedding day, a minimony can be considered as your commitment ceremony to celebrate your original wedding date.
It's entirely up to you whether you make this your legally binding ceremony with a registrar or vicar, or you go ahead and book a celebrant. Your sequel wedding can take place at a later date – a follow-up day with all the friends and family and celebrations you originally planned.
Celebrity Stamp of Approval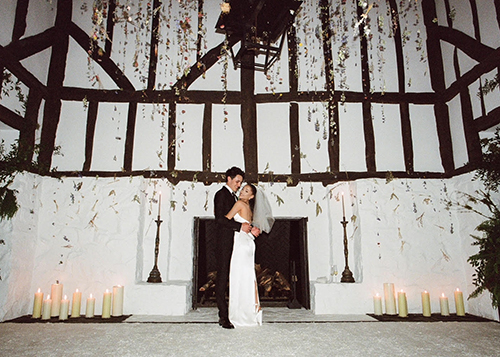 In this all new influencing age, what we see adorned by all the A-listers, we want. Around the time of Covid-19 a fair few of our favourite celebrity Minimonies took place and this started the rustling in the wedding world.
You can look back and see the all-so-special events by the likes of Ariana Grande at her at-home intimate ceremony, Lily Allen's small wedding in Vegas and so many more, really trailblazing this new trend. Take some inspiration from them and get some Minimony planning tips to help with your wedding planning.
Dare to be Different
Straight out the gate, Minimony weddings will spark interest among your loved ones as being daringly different, but let's look as what else you can do to really make a impact.
Of course if you have splashed out on your dream wedding dress and suit and you opt to wear them twice, that's great! But maybe think of alternative outfits? Ever wanted that short white dress or wedding jumpsuit but didn't think it had the wow factor of a traditional wedding dress? This would be your time to get creative with your wedding outfits.
Pint-sized Party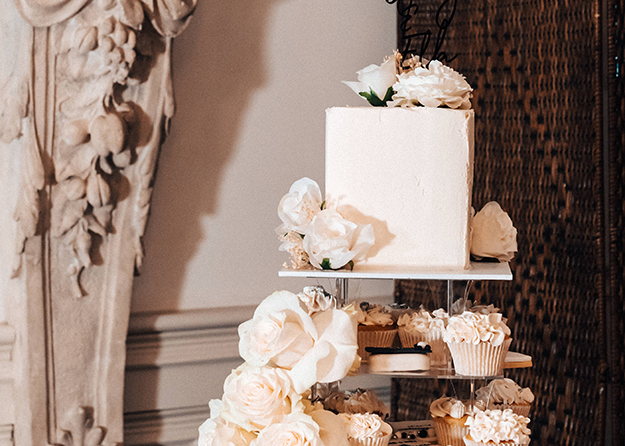 Maybe have a mini wedding cake? There really is something so endearing about all things miniature, so imagine your actual wedding cake replicated into a version more fitting for the event. What about a small version of your main bouquet? Everything imaginable (and within reason) miniature-sized! How cute!
Small and Intimate Affair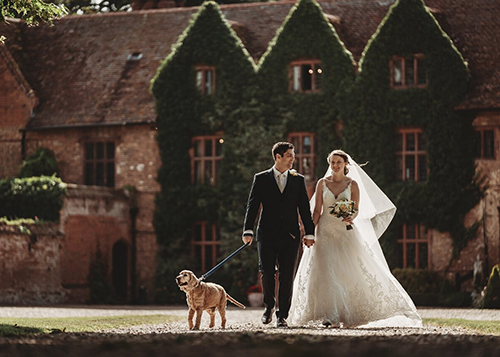 Minimonies tend to be around 10-15 guests and perfectly petite. Gathering only the most special friends and immediate family in your lives to come together for your intimate wedding ceremony and reception.
Woodhall Manor is the perfect wedding venue to host small weddings celebrations. The quaint drawing rooms, enchanting walled garden and ballroom all serve as spectacularly special spaces to use.
Intimate is what we do best here at Woodhall, and we have special offers and collections entirely suited to your Minimony.
Our Manor, Your Minimony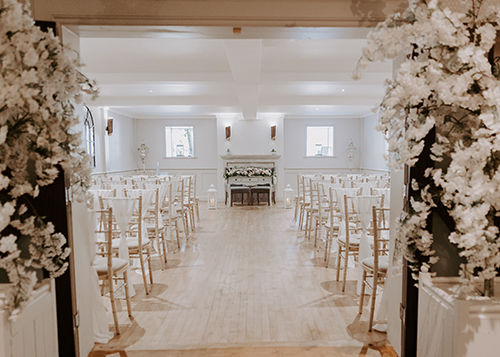 A match made in heaven and here to be exclusively yours, you and your slight guest list can make Woodhall Manor your own and slumber in our 14 beautifully designed bedrooms and suites, more than enough to host your entire wedding party.
In terms of a space to choose for your ceremony, you really are spoilt for choice. Inside the manor we have multiple drawing rooms draped in ornate, historic features. Outside we have the Dovecote, a truly breathtaking area for you to say I-Do, and yes, there will be real doves singing away!
Set within the walled garden is The Cherry Blossom Room, a room so well suited to a mini wedding ceremony you would of thought it was made for exactly that. Neutrally decorated, ready for you to style and decorate exactly to your taste. After you have said your vows why not wander into our gardens for a drinks reception and wait for us to swiftly turn around the room and transform it into your wedding reception. Creating a-small-but-perfectly-formed intimate dinner ambiance.
Head over to The Garden Lounge to bring in the evening, in our cocktail bar inspired, party room of your dreams! Finding words to paint the picture of this room is difficult, you just have to see it! Intimate by day, Party by night!
Is a Minimony wedding something you want to consider? Or has it inspired to have a intimate wedding? Or maybe entirely the other way and your now opting for a larger wedding. Whatever the scale of your nuptials are, Woodhall Manor can make all your wedding plans and dreams come true and provide you with a venue which is truly special with its abundance of space and flexibility.
Get in touch today to book your private tour of our manor and grounds via [email protected]
We can't wait to welcome you.