Spring welcomes the world of new beginnings, fresh weather and a wonderful ambiance to go along with your special day. From bountiful spring blooms and sunshine to soft colour palettes and fresh, local produce.
We all know that planning a wedding can seem like a whirlwind of logistics and decisions. From selecting the right venue to finding the perfect wedding dress, it's a lot to think about. But, the good news is that planning your wedding can be such a joyous experience if you start early and take the time to make sure every detail is taken care of. In this blog, we will discuss the steps you should take to ensure your 2024 spring wedding is a success, ensuring it is the best day ever!
The key to planning a successful spring wedding is to get a head start and start early. This will give you plenty of time to ensure you have all your ducks in a row and a clear vision – from choosing your wedding date, your wedding venue, to your wedding dresses for the day, booking suppliers, a wedding theme and deciding on your decor.
Setting the Budget
Before you dive into anything deciding on your wedding budget is a vital step to consider before finding your perfect wedding venue. This may involve ruling out certain venues before spending time viewing them, as the venue hire may be more expensive than expected.
To do this you need to consider who you would like to invite, and write yourself a guest list. This will help you to determine how many guests you could expect, so you receive realistic quotes from wedding venues. This will also enable you to work out how much money you predict your overall wedding day will cost you, as well as how much you have available to spend. Other things to consider within your budget are your venue, food, drinks, wedding outfits, wedding cake, wedding decor, wedding photographer etc.
The Perfect Date
After you have set your budget, this helps you to decide on potential wedding dates. Naturally, weekend dates are more expensive than weekdays, especially in peak seasons – such as summer holidays, bank holidays and school holidays.
Spring time welcomes more availability for you to choose a wedding date, along with some fantastic special offers.
Why not consider a weekday or last minute wedding? This may enable you to have more money to be put towards your perfect outfit or any other added little details to the day – such as chair sashes for the ceremony or table centre pieces for the wedding breakfast. Other ideas could include a cocktail hour for your wedding party or live music for your evening entertainment.
Your Wedding Venue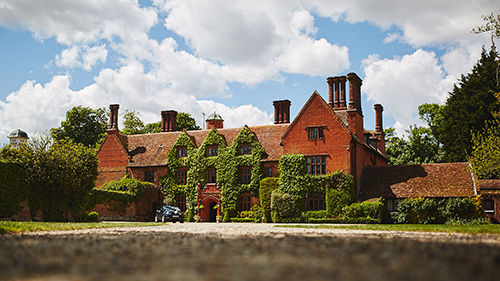 Picking the right venue is like choosing the right stage for your show. Some things you should consider include your budget, location and accessibility, size and capacity, the amenities available, decor style and ambiance, availability of suppliers, parking and transportation options.
Woodhall Manor is the perfect venue for a spring wedding due to its beautiful surroundings, they come alive with dancing daffodils and wild flowers, the gardens really look the best at this time of year. With not only the benefit of being an exclusive use venue it is also nestled in 9 acres of countryside near the Suffolk coast, making it a beautiful backdrop for your wedding photos.
Woodhall Manor has a total of 12 bedrooms for you to host your nearest and dearest, enabling you and your guests to carry on celebrating into the evening.
The Planning Really Starts
Beginning the wedding planning process early is essential for creating a stress-free experience. It will also help you secure the right venue and avoid last minute complications. To make the process easier, create a wedding checklist and timeline, make use of wedding planning apps and services, and stick to a budget while communicating expectations with suppliers and partners early on.
At Woodhall Manor, you will be assigned a wedding planner, who will be happy to give you more in depth help, as well as advising you on any in-house decorations we have. They will also be able to share a list of suppliers which we work closely with and recommend, from a professional wedding photographer to florists, stationers, DJ's, bands and decor stylists to help you with your wedding planning.
Our suppliers will know the venue inside out, and will be able to assist in what works well and the colours that suit all your themes, styles and personalities. From choosing flowers for your wedding ceremony and the charger plates for your wedding breakfast, to a photo booth for the wedding reception.
Wedding Insurance
Think of wedding insurance as your safety net. As soon as you book your wedding venue, we highly recommend that you get it. This will help to protect you in case anything happens beyond your control that could alter your wedding plans.
Frocks and Fits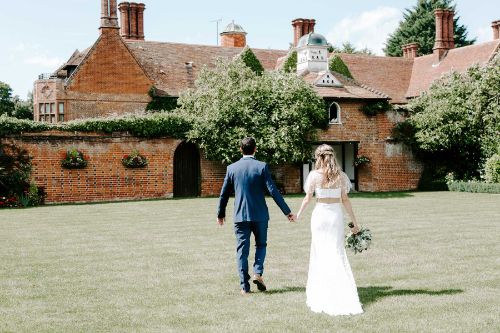 The bride's wedding dress is one of the most important elements of the big day. Many brides will try many different styles until they find perfect wedding day outfit. When selecting a dress for your 2023 spring wedding, take into account the season, weather and venue when selecting the fabric and style you would like to go with, along with current wedding dress trends. Accessorise with appropriate jewellery, shoes, headpieces and veils to complete the look. Perhaps a delecate flower crown for her and a fresh bloom pocket square or boutonniere for him, that goes with spring colour scheme?
Don't forget to agree on how your VIP wedding party are going to dress too. This is the perfect moment to expand on your spring decor and opt for pastel bridesmaid dresses and a thinner, fresher suit style for the groomsmen.
Decor Galore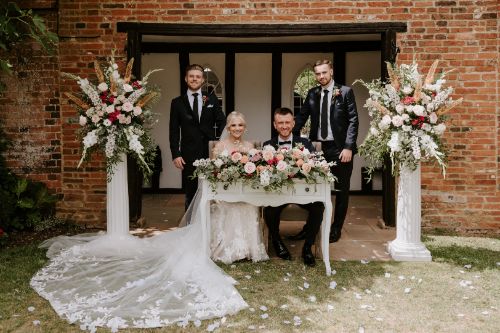 When it comes to decorating your spring wedding, let your creativity shine. For an indoor wedding, maybe consider incorporating fresh seasonal flowers into bouquets, centerpieces, pew ends, and other arrangements. Other popular ideas are using dried flowers to make handmade personalised invitations.
Use bright colours, such as pastels and neutrals, to create an inviting atmosphere. For an outdoor wedding, incorporate natural elements such as twigs, vines, branches, petals and add outdoor lighting to illuminate pathways and create an inviting atmosphere.
This is your moment to create the entire atmosphere and theme of your big day. Nothing says spring wedding quite like bountiful fresh blooms and wild flowers, so keep that in mind when choosing your decor.
Jet Setters
As the wedding is getting closer, and all the planning is underway, don't forget about your honeymoon! The first step is to ensure that your passport is in-date, as otherwise that could be a slight disaster! It is then time to decide on the destination, and begin booking your flights, accommodation, transport and activities.
With a spring wedding, this means a summer holiday, so expect to see roaring temperatures. If you are a sun worshiper then this is the perfect time of year for you.
In conclusion, planning your 2024 spring wedding can be an enjoyable experience if you start early and take the time to plan every detail carefully. From choosing the right venue to selecting the all important decor, there are so many steps you take before your big day arrives, so always remember to enjoy it all!
Ready to start your wedding journey with us and book your Spring Wedding? Contact our wedding team on 01394 411 288 or [email protected] to discuss all your plans, and to book your private tour.
Tips and advice for planning your Spring 2024 wedding…