There are generally two different wedding types of people; the planners and the last minute. For any last-minute couples who just want to get married and for everything to go smoothly, then this guide is for you.
Financial Reasons To Book A Last-Minute Wedding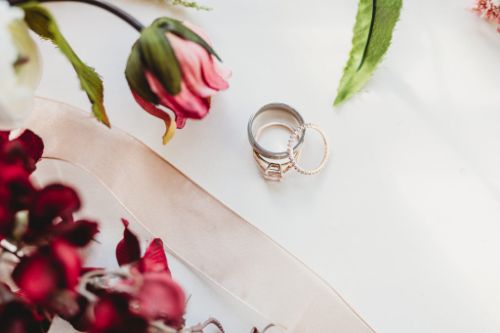 One of the most popular reasons for booking a last-minute wedding is restrictions within the wedding budget. It may be that your budget won't stretch far, or you may decide that you don't want to spend all of your savings on a wedding. The fantastic thing about booking a last-minute wedding is that they can come with amazing special offers. Not only with your chosen venue but also with all your suppliers, that you are hoping to work with. For more information on Woodhall Manor's special offers for last-minute weddings, click here.
Personal Reasons For Booking A Last-Minute Wedding
Timing and circumstances can have a huge impact on when a couple decides to get married. Pending new members to the family can be one of them. It might be a case of tradition or personal choice, but some couples want to get married before the newest family member joins us in this wonderful world.
Another reason may be the type of job that either one or each of you have. Teachers, armed forces, and NHS staff struggle with time off, and they are sometimes restricted to days, weeks, or months. By booking a last-minute wedding, they may also be able to get a discount.
It Might Be A Personality Thing
As we've said before, some couples just don't like the intricate planning that some weddings can involve. Last-minute weddings are perfect for snap decisions, spontaneous moments, and carefree wedding planning. It really is the ultimate way to plan a wedding without sweating the small stuff.
If you're an anxious person or find yourself getting easily stressed, prolonging your special day might also make it worse. Last-minute weddings may involve quicker planning, but if you follow each step, then it also takes so much of the worry out of your wedding day.
Have A Happy Honeymoon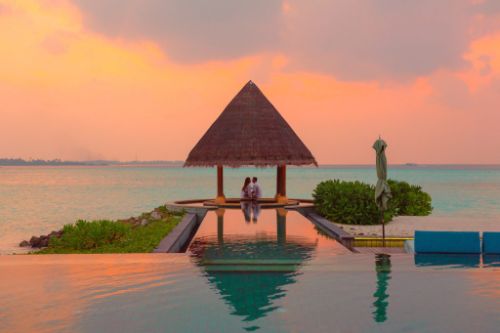 Last-minute holidays also come with great discounts. If you want to go on your honeymoon straight after your wedding, this can also be somewhere you save money from your wedding budget. Once you have set the date, you can also look into great deals on your honeymoon.
It can also be a seasonal thing if there is a specific location you want to visit for your break away, and that location is currently 'in', or leading into peak season, you don't have to wait the full year. Get it booked up, so you can get away as a married couple ASAP. Or you could even book a destination wedding!
Picking The Perfect Last-Minute Wedding Venue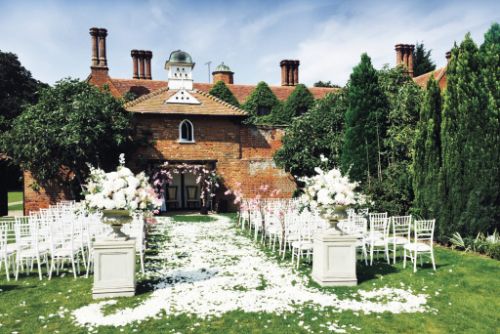 Does the mere thought of planning every aspect of your wedding day months in advance fill you with dread? One of the joys of planning a last-minute wedding is the minimal amount of planning involved; perfect for the spur-of-the-moment couple who just want to tie the knot without any of the hassle! Picking the perfect venue can mean you can stay organized and make organising your wedding a piece of cake, so we have some hints and tips to make sure where you tie the knot is the ideal place for you and your partner.
Leave It With The Professionals
If your chosen venue specialises in events, they will be no stranger to organising your big day in a small time frame. These types of venues will also most likely have a dedicated wedding team with plenty of experience in everything from planning to delivering the perfect wedding day. Their wedding planners will also be able to inspire you and guide you through the entire planning process. Making sure that every angle is covered, right down to the most intricate details.
Everything Under One Roof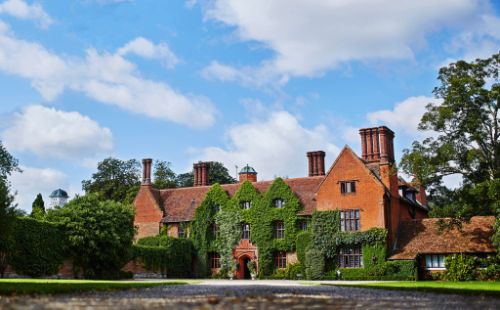 Choosing a venue that is licensed to hold ceremonies can also take a lot of stress out of planning your wedding, as you won't have to worry about hiring wedding cars or finding a church at short notice. By finding an all-in-one venue, you can save yourself from splashing out over your budget, and you can spend more time making your chosen venue look incredible. Finding an all-in-one venue is also ideal for those who have guests who may not be familiar with the area or have traveled a long way to join you for your special day, as this prevents them from getting lost between venues.
Overnight Stay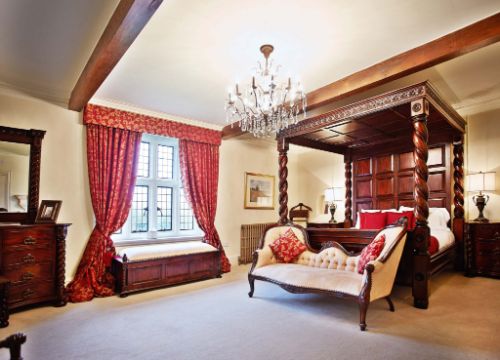 Staying over the night before and/or the night after your wedding can also be a huge stress reliever. No need to book the late-night taxis, shoo your guests out of the building, and check into a hotel at stupid o'clock in the morning. Staying over the night before can also save you valuable time in the morning for hair, makeup, and calming those big day nerves with a glass of prosecco or two… or three…!
Keeping Up With The Trends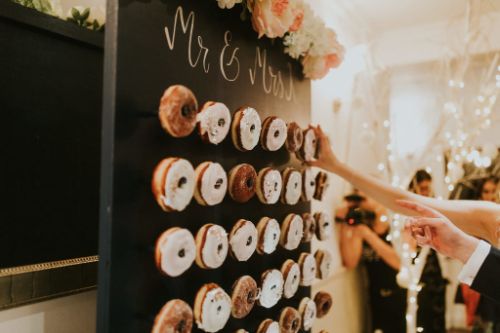 Imagine planning your wedding well in advance, having all the latest colours and trends, thinking you have every angle covered, only for your ideas to become out of style and "totally last year". Pretty disappointing, huh? One of the many advantages of a last-minute wedding is that they allow you to stay up to date with the latest trends and themes with no time for them to go out of fashion.
Last-minute weddings also give you the opportunity to adapt your theme and your décor to the time of year. So, if keeping up with the modern and popular trends is a deal-maker, then maybe a last-minute wedding is for you!
Something To Make The Taste Buds Tingle
A venue that has its own internal caterers can be a huge stress reliever when it comes to planning a last-minute wedding. Trying to arrange external suppliers at short notice can be nigh-on-impossible, especially when it comes to food, so finding a venue that can cater for your wedding is a huge bonus.
This can save you money, and you can rest assured that the professionals will have it covered. A vast majority of venues with internal caterers will give you the opportunity to sample their different menu options before you make your final decision. For many people, food is one of the main priorities for their wedding day.
In recent years, traditional dining has become rarer and rarer and has moved over to make way for more out-of-the-box ideas. From live cooking and food carts to a new range of delicious canapes, there are so many opportunities to make your wedding day completely unique and personalised.
What Wedding Ceremony Suits You?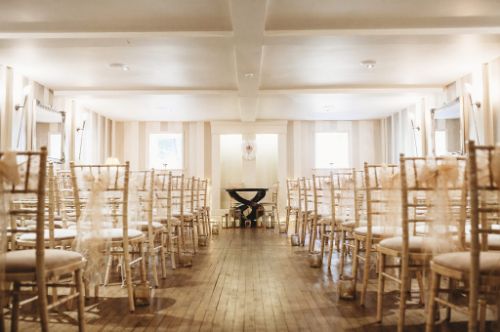 Modern-day weddings offer so much variety when it comes to the type of service and ceremonies that are available. You can find a ceremony that suits your beliefs, style, and requirements.
To have a ceremony that legally registers you as married, 28 days is the shortest lead time you can work with. You can have a non-legal ceremony and register it later, but if you want a legal wedding that's shorter than 28 days, Vegas it is!
Each type of ceremony comes with its own difficulties when it comes to last-minute weddings, mainly because of availability. However, if you book your registrar or celebrant as soon as you have set a date/month then you will hopefully find the date of your dreams.
So what ceremony would suit you and your soon-to-be spouse? Let us talk you through the options…
Last-Minute Religious Ceremony
Religious ceremonies are held in your local church and taken by your local vicar. To have a church ceremony, you must have some sort of association with the services that they provide.
This connection could be that you live in the local village, your family lives within their catchment area or you regularly go to that church. If you're not a churchgoer, then you could start regularly going to one of your chosen church's services 6 months beforehand. This does, however, eliminate the last-minute nature of your wedding.
To signify that you wish to get married in the church, you will need to attend three weeks of consecutive Sunday services to have your banns read. If you're not a regular member of the church, they may also ask you to attend a preparation class in advance of your wedding.
Church ceremonies may hold more regulations and protocols than other types of ceremonies, but what you will end up with is a beautifully traditional celebration.
Civil Ceremony
If you and your other half are not of religious belief, why not pick somewhere else and have a civil ceremony? You could choose a hotel, a beautiful manor house, or even a rustic barn that has a marriage license.
A civil ceremony is a non-religious wedding, which is taken by a registrar. To have a civil ceremony, the location you choose needs to be registered. You can find this out via your wedding planner at the venue itself. Woodhall Manor is licensed for both inside and outside ceremonies.
Once you have confirmed that the area or building you have requested is registered, you can then book your registrar.
Registrars are government or civil officials that are registered to legally marry a couple on their wedding day. They are keepers of the wedding registration book and have all rights to read the wedding vows.
No hymns, prayers, or religious readings will be part of the ceremony, leaving room for your favourite songs and readings from the heart.
Is A Celebrant Ceremony Legal?
The freedom that comes with a celebrant ceremony is fantastic. You can get married practically anywhere (with permission), and your ceremony can include anything you want it to and can be as long or as short as you want it to be. You could even create your own vows.
The main restriction is booking your celebrant before anyone else. However, as there are no time restrictions, you could have a morning or evening ceremony if you wish.
Celebrant ceremonies aren't legal, so you will need to attend a signing of the register at your local registry office with two witnesses. This can be done before or after your wedding day if you want to make your marriage legal.
Get To The High Street
Visiting wedding boutiques in the lead-up to your wedding is always fun, trying on fabulous dresses, getting tailor-made suits, and accessorising to the max. However, ordering from these types of stores isn't the most time effective. Huge high-street retailers offer ready-to-wear wedding fashion. From beautiful high-street wedding dresses to stylish suits. The beauty of shopping on the high street is that you don't have to wait for your outfit to be created, but it can easily be altered by a local seamstress.
Phase Eight has a style very similar to wedding dress designers. Their romantic designs, intricate detailing, and delicate lace offer everything you need for the ultimate dress, all priced from about £250. They also offer beautiful bridesmaid dresses, so your bridal party can be a Monsoon party!
If we're talking high street occasional wear, we can't ignore Debenhams. They feature many beautiful brands including Phase Eight, Chi Chi London, Debut, Sistaglam, and Scarlett & Jo.
Wedding fashion used to be all about the bride, not the case anymore! Grooms suits have taken a turn from dull to designer, with high street stores bringing out stylish and sophisticated tailoring to suit and boot the groom of today. The likes of Next, Moss Bros, and Suit Direct all offer amazing designs for wedding suits, from the classic three-piece to the more contemporary fitted two-piece. The hottest trends in suit wear all reside in these fantastic high street stores, giving you all the choices, minus the hassle of visiting a tailor. If you're not looking to buy a suit, you could always hire one. Many high street retailers offer a formal hire service including Moss Bros, Burton, Slaters, plus many more.
Destined For Designer?
If you're still aiming for that designer gown, get online. Many designers can be found when searching the net, giving you that designer style but off the rack. They may not be made for you specifically, but they still hold all the glamour of a designer dress.
The Outnet is one of the most popular ways to buy a designer dress at discount. You will find some of the biggest names from Halston Heritage and Roberto Cavalli to Stella McCartney and Oscar De La Renta, giving you that statement dress that you've always dreamed of. Other options for a designer wedding dress can include The Wedding Shop, JJ's House, and The Bridal Village.
Put Your Feet Up
f you're a regular online shopper you will have seen that bridal fashion has been sneaking into our favourite online retailers.
The likes of ASOS, Missguided, Boohoo, and Lipsy have all created their own bridal range. Giving all the choice, in the latest styles for a fraction of the cost.
You can order your dream dress online, with next-day delivery and if you're not 100% happy with it, send it back in the post. Quick, easy, and perfect for a last-minute wedding.
Whichever way you go about buying for your special day, we are sure you will look incredible. Enjoy!
Last-Minute Wedding Suppliers
When it comes to booking bands, DJs, photographers, florists, and cake makers, it's always better to go on recommendations if you possibly can. First stop? Your trusted wedding planner. Many of them will have lists of recommended suppliers to help with all the specialist elements that will form part of your day.
If you're ordering floral arrangements, a florist that is familiar with the venue is always a bonus as they'll know the layout and have an idea of what you'll need to fill the space. They should also be able to quickly give you a ballpark figure which will help with budgeting.
Your venue should also be able to help recommend locally based entertainers such as bands, DJs, and magicians which will save you trawling endless websites looking for good options. By booking locally based suppliers you'll also save heaps on travel expenses that you'd otherwise be charged for.
Don't be put off by thinking that short notice means limited choice, particularly if you're marrying midweek. Most good entertainers will be booked for months in advance at weekends but are often available during the week and for a lower fee. The same applies to wedding photographers.
Marks & Spencer is a great option for no-fuss wedding flowers with a range of affordable packages that include bouquets, buttonholes, and table decorations. Or, if you or one of the bridal party is creative, another option is to order wholesale flowers direct and create your own floral arrangements. Hand-tied posies can be easily created as can buttonholes so don't be afraid to investigate this as a cost-effective option to save both time and money.
Tips For Finding A Venue On Short Notice
If you are looking for a venue to hold your wedding ceremony and evening reception at, our top tips would be to look in the off-season. Why not book a winter wedding? January can be the perfect month and comes with discounts and special offers! Have a look at Woodhall Manor's special offers or even at its sister venue Manor By The Lake.
Alternatively, look at booking a mid-week day, as these can be considerably lower in price than at the weekends. This may mean you can still have your dream summer wedding but at a fraction of the price by having it on a Monday rather than a Friday or Saturday.
Another top tip of ours would be to widen your search and consider all types of weddings. For example, why not consider booking a courthouse wedding? This can be a small intimate wedding at a registry office or an elopement wedding – where the bride and groom run away in private to get married, without telling any family or friends or with only taking a few.
A courthouse wedding can be significantly cheaper if you are looking to get married but save those pennies. It's a great way to get married on a short timeline and have a low-key wedding.
An elopement wedding can be perfect for couples who don't enjoy or want the stress of planning their big day. They don't have to be at a venue so could be on the beach, in a public park, or building.
Tips For Booking Suppliers
If you do decide to book a wedding venue, we would recommend asking your venue for any suppliers they work with. The venue will work with a range of florists, decor stylists, photographers, videographers, etc throughout the year, and will be able to give you advice and guidance on who they believe are the best and most reliable. They may offer discounts or good rates for couples booking through their venue. This will help to put the couple's minds at rest and reduce any added stress of researching local suppliers, especially if you aren't from the area.
A website that we recommend using is For Better For Worse which has contacts to over 1,000 suppliers – from photographers, videographers, cake makers, and florists. Woodhall works with companies such as Jades Flower Design, Jeff Turnbull Photography, and Primrose Cakes.
Another tip would be to speak to friends and family members, as they may know or can recommend someone who could help out. Otherwise, designate one of the Groomsmen or bridal party to act as your photographer for the day!
Tips For Inviting Guests
Once you have the main details of your wedding sorted – e.g. location and timings, it's time to create the guest list and invite guests. As there will be a tight timeline to the big day, your guests will need to organise booking time off work, and arranging any childcare and transport sooner than later.
To make it easier for your wedding planning, you could consider sending out virtual wedding invitations. These can save time and money, and mean you don't waste time waiting for them to arrive at your guest's and for your guests to RSVP back.
If you are having a more intimate wedding day, then you may only be inviting your very close family and friends – such as parents, grandparents, siblings, and your best friends. Therefore you may even decide to just drop them a group message to invite them to the wedding, as it will be a big time saver.
Tips For Finding & Booking Travel Arrangements For Destination Wedding
Before securing your wedding day, we advise that you make a checklist beforehand. If you are looking at having a destination wedding, one of the most important tasks to do is to check that you and your guests will be able to get to the destination and that there are enough flights at suitable times on such short notice. It is also important to check that they are regular and affordable for your guests, but also not too far away from where you are planning your ceremony to take place from the airport.
We also recommend in investing in wedding insurance (ensuring that it covers the transport too), just in case there are any issues with the company later along the line.
Resources For Finding Last Minute Wedding Decorations
Websites such as Ebay, Sell My Wedding and Facebook Marketplace are good options to try when looking for last-minute or second-hand wedding decor. Asking family or friends if they have any that could help, can be more cost-effective and environmentally friendly too.
If you are planning on getting married in a wedding venue, you could always see what they have in-house for you to use. They may have decor items that you can hire from them, or that they can supply for you at a discounted rate. They may also have a team of in-house wedding planners to assist you with any questions or offer a service to assist with a range of wedding planning. Enquire with us Woodhall to find out more.
It is entirely up to you whether you decide to plan your wedding for a few years' time or book a last-minute wedding. There is no right or wrong answer, but the most important thing is focusing on what matters the most – the love and commitment between the couple, and spending precious time with family and friends all together!
For more information on last-minute wedding availability at Woodhall Manor, please call the team on 01394 411 288 or contact us here.
FAQ
Why do couples decide to plan a last-minute wedding?
There are many reasons why couples choose to have a last-minute wedding. This may be down to personal circumstances – due to family reasons or because of the cost, or just because the couple wants to be spontaneous!
When should I start planning?
As soon as you feel ready! You may want to start planning a few years in advance or a couple of months before the big day.
What is the most cost-effective day to get married?
This will differ between venues, however, it is usually Mondays that are the most cost-effective day to get married, with the prices increasing as you get closer to the weekend.