Your wedding day can be one of the happiest and most stressful days of your life. It can be a day full of excitement, emotion, activity, seriousness, fun, and laughter. However, it is also a day when a number of things may go wrong.
A bride survival kit can be a bag or box full of emergency items to help you through any unexpected situation or problem that may arise. This could be a fashion failure, a makeup disaster, or a few items to help with any of your female needs. It can save you from a disaster, or help you to constantly feel your best through one of the most important days of your life.
It is supposed to help make you feel prepared for any situation so that you feel comfortable and at your best from the second you walk down the aisle, all the way until the clock strikes midnight. You can either make it yourself or delegate your Maid of Honour or bridesmaids to make it for you.
We strongly suggest that you have an emergency survival kit on your wedding day, as not only may it benefit you, but it may also save one of your guests in need! Whether that is because a friend needs a tissue for all the happy tears during the speeches or a sewing kit for one of the bridesmaid dresses.
Storing Your Bridal Emergency Kit
Who needs an excuse to buy another bag? As here is the perfect excuse or even reason to look at buying one, as you may well need it for your wedding day!
It will need to be large enough to fit everything in and stylish enough to not look out of place when one of the members of your bridal party is carrying it around for you. It won't go up the aisle with you, but it will be nearby throughout your day, from the ceremony to the drinks reception, wedding breakfast, and evening reception.
Whether you are in need of tissues during the ceremony, or in need of touching up your wedding make-up for the evening reception, then this bag with your wedding emergency kit in, will be your life saver!
You may decide to label it as the "Brides survival kit" or a "wedding emergency kit" but just ensure you let everyone know what it is and where it should be on the day. Maybe designate this job to a close member of your wedding party, as you know you'll be able to trust them to manage your bag. This will then allow you to enjoy your special day without having to worry!
If you would like to be a little more discrete with your bag, maybe opt for a tote bag instead. This could be hidden away but in easy reach. Such as tucked away in a drawer, cupboard, or tucked behind something, if not kept safe in the bridal suite until you may need it.
Another popular way of presenting the wedding day emergency kit is in a box with a ribbon, which can be on the side for whenever you require it – or even hidden under your table during your wedding breakfast!
Below we have shared our top tips on how to create the ultimate wedding day emergency kit.
Collect The Basics Of The Kit
Whatever you put into the emergency kit is entirely up to you and depends on what you're likely to need on the day. We have a list of things we think are wedding day essentials to include, so take or leave as many of these items as you see fit!
Makeup kit – any make-up essentials that you feel will be beneficial in helping you look your best on your wedding day.
Hair brush or comb – to keep your hair smooth and silky all day, and because you never know when you may need to keep those flyaway hairs tamed with some hairspray.
Bobby pins or hair ties – to help keep your hair in place when the hairdresser has left!
Safety pins – as you never know when or what you may need them for. Such as helping your bridesmaids with keeping their dresses in place.
Tissues – a necessary multi-use item – whether that's from some happy tears from the ceremony or speeches, or to help wipe away some of your make-up to refresh it for the evening reception.
Face wipes – for ease when refreshing parts of your make-up for the day.
Plasters or bandaids – for those sore feet in the evenings to reduce any blisters.
Spare tights – especially in the colder months, spare tights can be handy just in case you or a guest's tights may ladder or get caught and rip.
Cotton wool – instead of needing to use toilet paper to touch up or tidy up your nail polish for example.
Deodorant – to keep you feeling and smelling fresh throughout the day, especially with an evening full of dancing.
Tampons or sanitary towels – even if you don't need them, there may be someone else who is in need, so having a supply just in case may help others from having to dash out to the shop throughout the day.
Breath mints or chewing gum – a necessity to keep you fresh throughout the day.
Nail polish – in case your nail polish chips or needs touching up, then it is there ready for you.
Double-stick fashion tape – to help keep things in place where safety pins may not be able to.
Pain reliever – there for you if you need to fight a banging headache.
Lipstick or lip balm – to reduce your lips from becoming dry and uncomfortable when talking.
Extra earring backs – these can be commonly known to go missing, so having a couple of spares will ensure the earrings themself don't get lost.
Flat shoes – A day in heels can be painful. To stop your feet from getting blisters, it may be an idea to have a pair of flat shoes on hand as the night comes to an end.
Eye drops – To stop those eyes from running and ruining your make-up. Especially if your eyes are irritated by pollen or flowers.
Compact mirror – On hand to help you touch up your hair or make-up when you don't have access to the bathroom easily.
Hand lotion – to keep your hands rehydrated and in top condition.
Tweezers – In case you need to get rid of a couple of stray hairs.
White chalk – in case something gets onto your dress and won't rub or wash out, then the white chalk will help to quickly cover the stain on your wedding dress.
Super glue – On hand in case someone needs a magical fix – whether this is for their shoes or jewellery.
These are the most popular elements of any bride's needs during her wedding day. If you're having an elaborate hairdo, then you're going to need to keep it in check whatever the day and the weather throws at you.
Tissues to keep your eyes dry or tidy up makeup; plasters just because you never know when you may need one! An extra pair of shoes for those sore feet from the dance floor, and safety pins because they have a thousand uses! We are sure you get the idea!
Tips on deciding what you may need would be by thinking of the most popular scenarios of the day. Maybe have a think of what will be happening during the day start to finish, and work out what you may need from there. It's always best to start preparing sooner than later, to reduce stress in the couple of days running up to the wedding.
Makeup Kit
Within your bridal survival emergency kit will be your makeup kit. This is obviously going to be a personal preference and dependent on what you're going to be wearing on the big day, but ensures you are always photo ready.
If you're going to be using a professional makeup artist then it's worth asking them for spares of their products. If you're doing it yourself, buy spares of everything. Better to be over-prepared than under!
The need to top up lippy, retrace mascara or generally tidy up means you could perhaps have two of everything in your makeup kit depending on how made up you're likely to be.
It will be useful to consider waterproof mascara if you're the emotional type as you will probably end up with a tear or two in your eye at some point during the day. It may also be worth investing in one of the newer anti-shine or matte foundations now on the market to make sure you look your absolute best on the day and in your photographs too!
Other Essentials
To complete your bride survival kit, it's useful to include food of some kind and a small bottle of water (or prosecco!). Add a straw too just in case. Avoid coloured squash or fruit juice because any spillage could be disastrous on your wedding dress!
A bite to eat during the day can help keep blood sugar at acceptable levels, provide essential energy and settle your stomach. Choose something like a granola bar and make sure it's something you have eaten before to avoid any negative reactions.
Also consider a mini sewing kit, mobile phone, (set on silent), stain remover pen, nail file, and a mini hairspray for any of those flyaway hairs.
When building your bride survival kit, consider everything you're wearing, the hairstyle you'll have and the makeup you'll be wearing. Then consider everything that could go wrong and have something in your kit to deal with it.
Different Survival Bag Ideas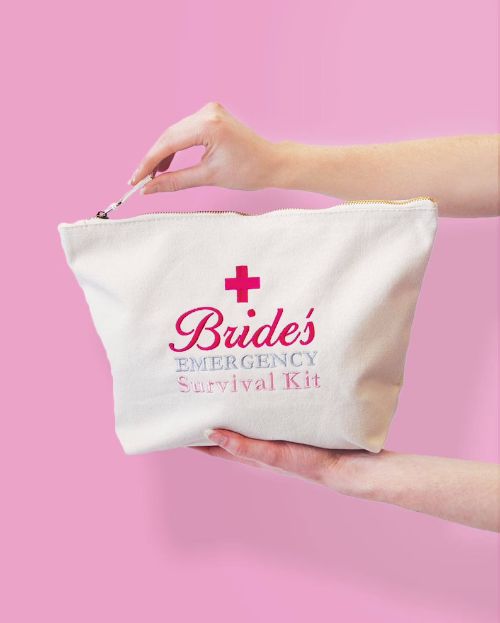 This is a perfect example of an emergency survival kit ready to be filled with essentials for the big day. The bag is made of natural canvas with embroidered writing and is roughly 34 x 22 cm in size. You could even get a matching version in blue for the Groom!
Bride Survival Kit Tote Bag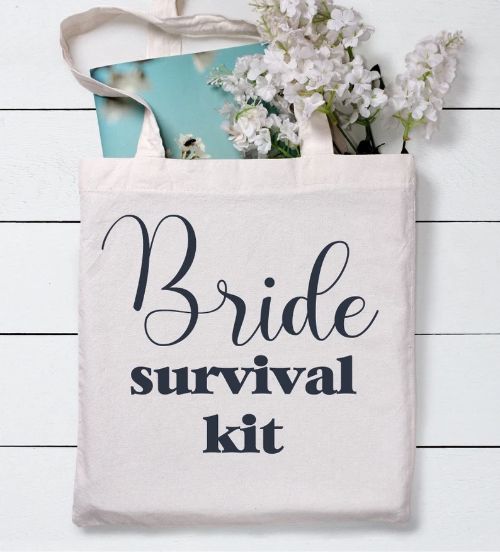 This handmade tote bag is made from 100% organic cotton. It has a simple but effective design on the front, with plenty of space on the inside for your wedding survival kit essentials. There is also an option to choose a different colour font so you can personalise it.
Bridal Pouch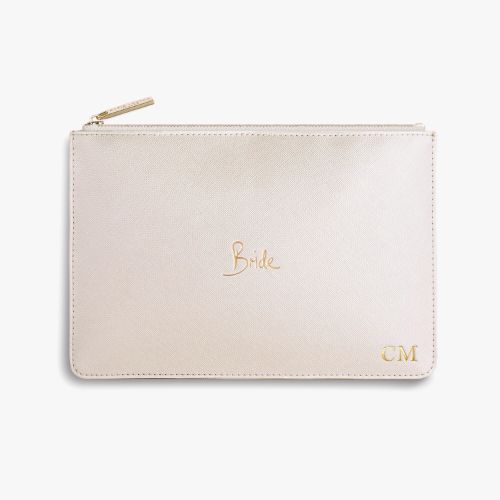 This must-have pouch is the perfect size bag for your essentials. The subtle pearlescent colour is made in a soft vegan leather material and can be personalised in the right-hand corner with your initials, along with your wedding party title in the centre. These pouches come in a range of colours from white, rose pink, gold, powder blue, dove grey, metallic silver and navy, enabling your whole wedding party to be matching!
Jute Tote Bags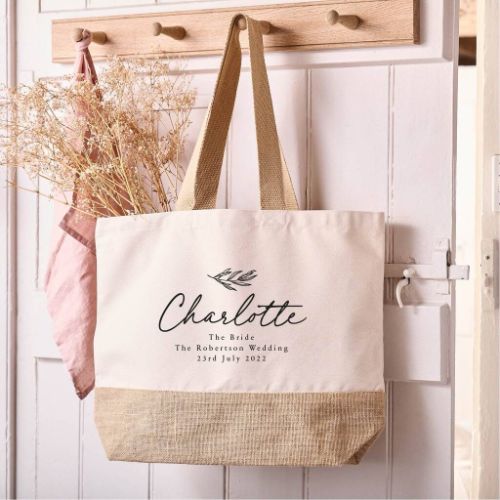 £20.00, From Not On The Highstreet
These stylish new jute tote bags can be personalised with your name, bridal party title and wedding details on them. Made in a natural cotton canvas material in a size of approximately 48cm x 38cm. It also has 26cm long handles, making it a lot easier to carry.
Personalised Box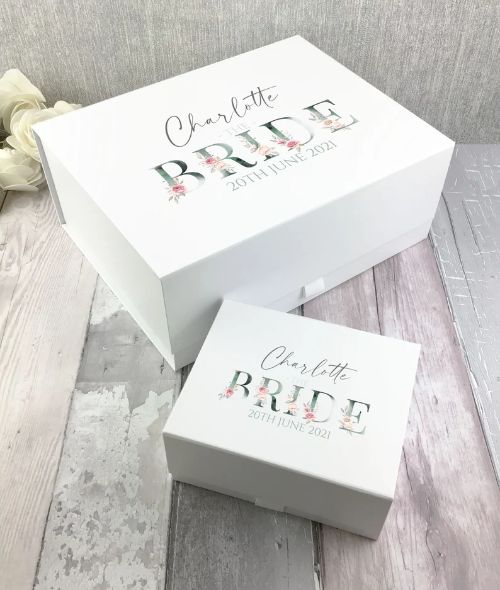 This beautiful, handmade, personalised box is available in four different sizes and has a luxury magnetic closure. Finished off with floral letters and a ribbon tied at the front, they make a perfect base for a wedding day emergency kit.
'Mrs' Personalised Clutch Purse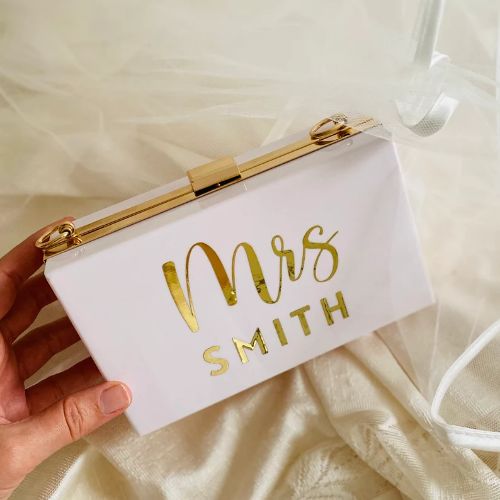 A stunning personalised acrylic clutch purse with vinyl metallic gold lettering, personalised with your surname. The clutch purse comes with a clasp closure and straps which attach and detach. There are four different colour options to choose from – white, black, pink and clear. It is a handy size to carry around with you on your wedding day and is an added personalised touch to your wedding photos.
Personalised Makeup Bag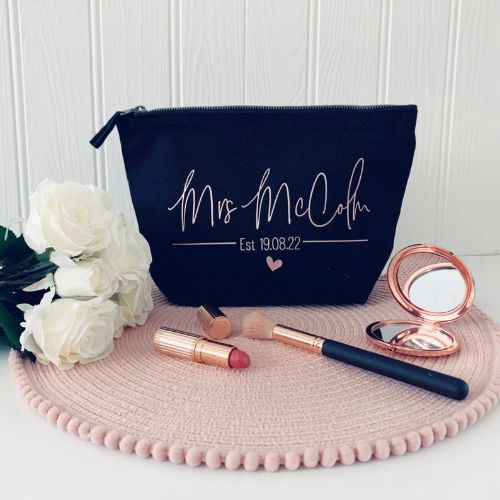 This gorgeous, handmade, personalised cosmetic bag is made from cotton with a metal zip. It comes in a choice of colours, such as pale cream, navy and black; and different font colours to choose from (such as rose gold, metallic pink, silver, gold and black). It can be personalised with your name and wedding date and is large enough to fit any of your wedding day emergency kit essentials.
Groom Survival Kit
In addition to your bridal survival kit, maybe it is worth putting together a survival kit for the men too, as we want them to be just as prepared as you. Even if the Groom isn't in need of any of the items, we can be pretty sure that one of the Groomsmen will be grateful for some of the items – with cufflinks being the most common!
A few of our top suggestions would include:
Spare cufflinks
Hair gel
Comb
Deodorant
Chewing gum or mints
Shoe polish
Tissues
Lint roller
Safety pins
Eye drops
FAQ
Do I need a bridal emergency kit for my wedding?
Yes! We highly recommend having a wedding emergency kit as you never know when you may need it! Whether it is for a plaster, hair grip or to touch up your make-up, you can never be over-prepared!
How shall I bring my bridal emergency kit?
However you like! We believe you can never go wrong with a personalised bride bag, but there are many different options. From a tote bag, to a handbag, basket or box, it is entirely your choice!
When should I pack my wedding day emergency kit?
Our top tip would be to start thinking about it sooner than later. Start getting items ready as soon as you think of them, as your brain will be doing summersaults thinking about all sorts in the run-up to the wedding and you don't want to forget the basics!
Even if you never use it, knowing it is there in case of an emergency, will help settle nerves and lower stress considerably. That alone makes it a worthwhile investment on your wedding day, so don't forget to add it to that wedding day checklist of yours!
For more information about our Wedding Collections and offers click here