One important thing to remember when getting married is that it really is your own big day. Create a wedding that suits you and add those charming little touches that represent you as a couple.
There are so many reasons why you should tie the knot underneath the summer sun. If you are one of those particularly outdoorsy couples, why not enjoy the beauty of an outdoor wedding? Becoming increasingly popular, an outdoor wedding is not just reserved for destination weddings. It can be enjoyed here just as much as Italy or other such destinations. Whether you want to get married in the wonderful and pristine grounds of Woodhall's Dovecote or experience your special day surrounded my manicured gardens, there are many good reasons why outdoor weddings are on the rise.
We have put together our favorite reasons to have an outdoor wedding, from the fun vibrancy of al fresco dining to saying I Do surrounded by natural landscapes.
An Outdoor Wedding Offers Breathtaking Natural Scenery
When planning an outdoor wedding you'll find that very little additional décor is needed when hosting an outdoor ceremony as the backdrop of a stunning garden adds its own colour and vitality to your outdoor wedding. The wedding venue will provide a perfect backdrop to your day- after all, the exteriors are just as important as the interiors.
Mother Nature has provided you with light, open spaces and style of her own design, so think of it as a gift from her giving you extra time and budget to spend on other things. And, while there is a risk of rain, here at Woodhall there are plenty of beautiful spaces to choose from, so you don't need to worry about your day plan being ruined, come rain or shine.
Stunning Wedding Photos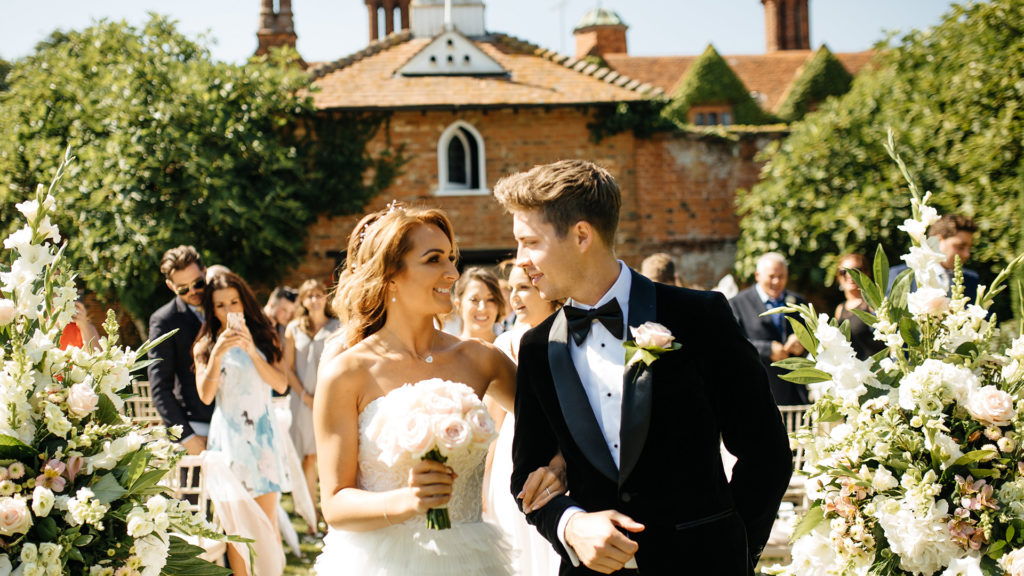 Not only will the scenery provide the perfect space for those all-important photographs at your outdoor wedding, but the natural lighting is incredibly flattering.
As the sun goes from rise to fall, it alters the mood of your day, giving you various opportunities to create the perfect ambiance outside.
Choose a time of day that suits the aesthetic and feel you prefer, whether it's the vibrant nature of the early afternoon sun, or the sultry romance of an evening glow.
Invigorate All The Senses
All senses are heightened when we are outdoors, affecting the energy of you and your guests. The weather can control the vibe of your wedding too, from the ever-living contagious energy of the sun to a gentle breeze of a warm yet cloudy day- outdoor weddings have a sense of exciting unpredictability.
Woodhall's beautiful gardens provide a feast for the eyes, while the catering team provide the perfect al fresco banquet for you and your guests, whether you choose fine dining or street-style food. We're always dedicated to hosting the greatest feasts for our couples and their guests, no matter what tickles your fancy. We know how important food and catering is to making all the family happy!
Having fresh air to breathe and the sun on your face is such a relaxing and invigorating feeling, why wouldn't you want this on your wedding day?
When outdoor wedding planning it is always important to consider the comfort of everyone, and being outdoors also helps with the behaviour of little VIP's. They feel less confined when they are outdoors and there is a lot more for them to see. Parents also feel less stressed as noise doesn't carry as far, helping them relax during the ceremony. On top of this, our suppliers are passionate about delivering the highest quality entertainment for your ceremony and reception so that not one guest is left dissatisfied.
If you are having a big family affair, why not set up an outdoor play area for children to enjoy? This will help create positive distractions for them as you say 'I do' and ensures every guest feels comfortable.
Fun, Fun, Fun!
Outdoor weddings are not only visually stunning, but they are always so much fun. Here at Woodhall Manor we have a fantastic collection of outdoor games for your guests to enjoy. It's not just the children who like to have a play!
Garden games are great for entertaining your guests between various moments in your outdoor wedding, whether you are off taking photos as a couple or waiting for the band or DJ to start.
You could always take a moment to have some fun with your other half… A bit of healthy competition never hurt anyone!
As well as all the fun, it can sometimes be easier to plan an outdoor wedding for many reasons, such as lighting and decor – both provided by nature itself.
Space To Roam And Get Creative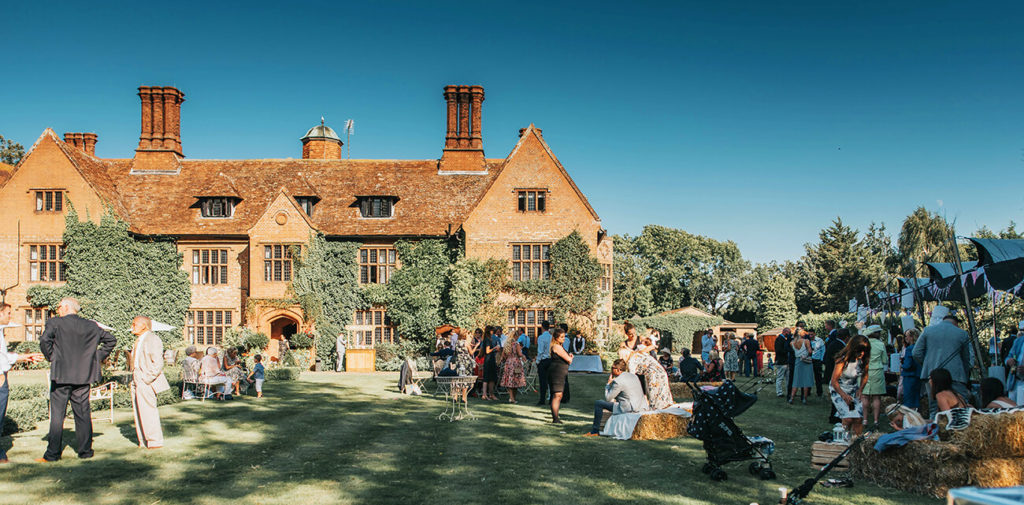 Whether you think you want a formal outdoor wedding or something much more laid back, it's very important to have some time as a married couple once the ceremony is over. Being out and about gives you the opportunity to enjoy a stroll together and take a breather from all the chaos that can surround a big event. If your photographer is discreet, this could be a perfect time to get some truly natural shots.
There are so many areas to explore at Woodhall Manor, each offering their own little quirks.
We have the beautiful Dovecot, a space in our walled garden surrounded by glorious white flowers. Licensed for outdoor ceremonies, you can even have white doves released the moment your marriage is announced.
Indulge in our endless selection of photographic locations within our 9-acres of gardens and sprinkling fountains. For wedding photos filled with colour, make sure to stop at our heart shaped rose bed and our walled gardens. It's a good idea to plan these with your photographer before your wedding day, so you can make sure you get the shots you require.
Once you have finished with your photos, join your guests on the terrace for a formal drink or on the dancefloor for a night of fun.
The Natural Light
Who could resist getting married under the magnificence of a midday sun? What about in the intense and warm light of the sunset? Maybe even a celebration under the charming lights of the full moon?
Whatever form your outdoor wedding takes, it's important to consider what time of day your wedding reception and ceremony will take place so you can plan other elements around it. In the day, you could choose a selection of colourful flowers for your decorations, and at night you could swap to deeper colours to reflect the bright white opulence of the moon.
The Dovecot here at Woodhall looks particularly beautiful under the glistening moon light, but if the outdoors gets too cold for your liking you can always head to our indoor spcaes, such as our Garden Lounge or the Rock Bar, where there is plenty of space for your wedding reception, so you can celebrate your wedding in style.
Going Bigger
If you think you want a wedding that's a bit larger than normal, an outdoor wedding could be just what you need. The great outdoors will always be able to host more people than an indoor wedding.
To tie it all together, planning your celebration on Woodhall's outdoor grounds provides a romantic backdrop in the form of the manor and the quaint gardens, so we think there's plenty of room if you wish to get away from the buzzing celebration to a quiet respite with your loved one. In addition, here at Woodhall we can provide food and catering for 200 people, so no one will go hungry!
These are just a few of our reasons why we think going for an outdoor wedding may be perfect for you. Saying your vows in the open air brings a feeling like no other and creates beautiful receptions and ceremonies alike.