Is your dream wedding really complete without the perfect cake? Choosing the right cake for your wedding can be daunting, we know! But, you'll be happy to hear that however big or small your frosted fantasies may be, there's a fantastic range of cake styles for you to choose from!
This weeks blog post highlights some of Woodhall Manor's favourite styles of cake for 2021 – from the classics to the eccentric.
Flower Power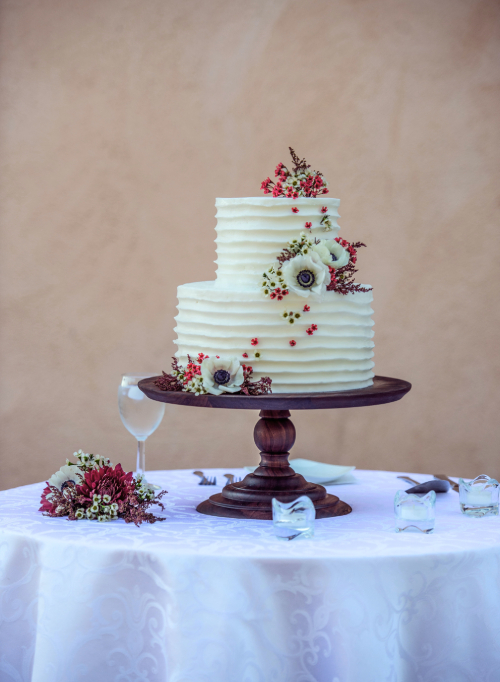 Following on from 2020, fresh flowers of all shapes, sizes and styles are trendy as ever in 2021.
However, moving away from the classic chocolate and fondant flowers, simple two tiered cakes adorned with elegant, edible petals are now the way forward.
Even better if you're planning on having an outdoor wedding. How bloomin' lovely does that sound (and taste)!
The Minimalist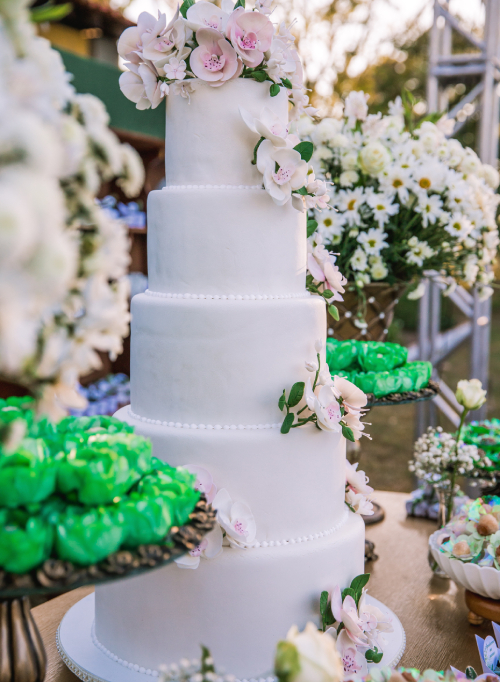 Modern Minimalism is one of the biggest trends of 2021, and not just in cakes. So why not incorporate the trend into your wedding!
Substituting bold colours for a monochromatic palette, many couples prefer to opt for simple styles to better fit the theme of their big day.
And simple cakes also provide more variety when it comes to decorations. It's never been easier to create the bespoke cake of your wildest dreams!
Square Shaped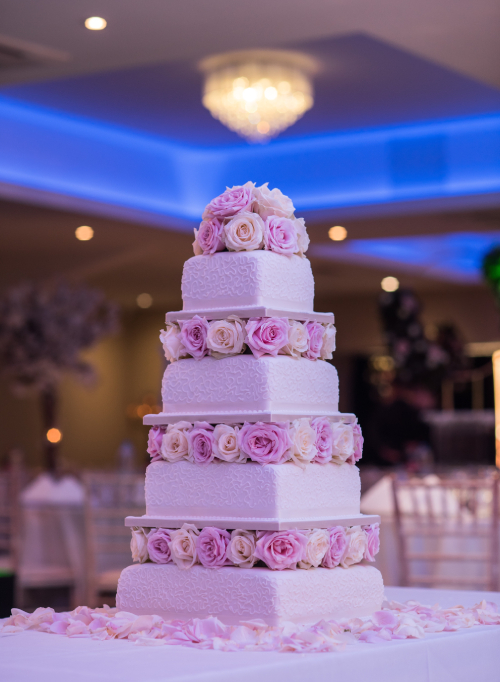 2021 is definitely the year to think outside of the box. Or to turn your wedding cake into one!
Square tiered cakes are a great way to turn your conventional confectioneries into modern masterpieces.
Instead of the traditional cylinder shaped tiers we've all come to know and love, why don't you try a different shape out for size. Here at Woodhall Manor, we think squares are the new circles!
Tiny Tiers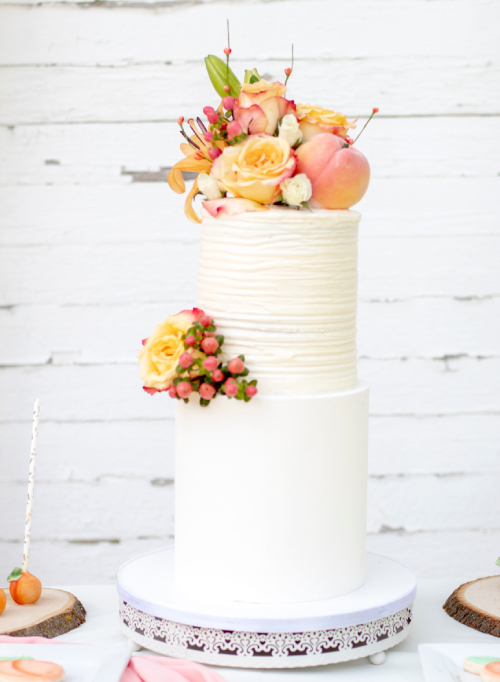 Having had to stick to smaller wedding parties due to unfortunate circumstances (although there does seem to be a light at the end of this very, very long tunnel), naturally, you don't need as much cake!
As a simple solution for couples who still want to adhere to the multi-tiered wedding cake tradition, skinny tiers are the new normal.
Maintaining the two to four tier style wedding cake, but opting for thinner tiers, means less cake waste after the big day.
Although I'm sure the wonderful wedding planners at Woodhall Manor would be happy to help out with any leftovers!
Hand Painted Patisserie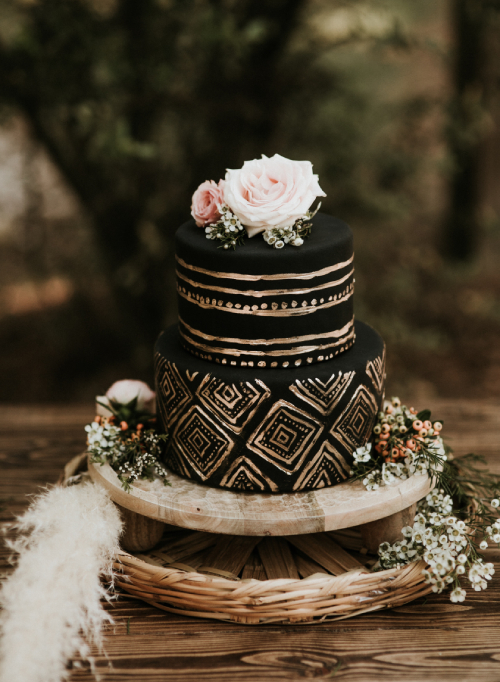 Painting is a great way to express your creativity and can make for a great bonding experience. So it only makes sense to incorporate this into your big day!
Hand painted cakes make for great, unique pieces and add a touch of sophistication (not that you'll need it), whilst also creating a special memory for the happy couple.
The perfect wedding cake style for newlyweds with an artistic flair, looking to channel their inner Bob Ross'. Make the cake your canvas!
Single Tiered Sweets
Small weddings is a common theme when it comes to weddings in 2021. But if tiny cakes or skinny tiers aren't your thing, choosing a single tiered cake may be the best choice for you.
Whether you prefer fresh flowers and fondant or bold colours and buttercream, single tiered cakes are the perfect, delicious solution to all of your small party problems.
All the same razzle and dazzle of a traditional multi-tiered wedding cake, just down-sized!
'Isolated' Treats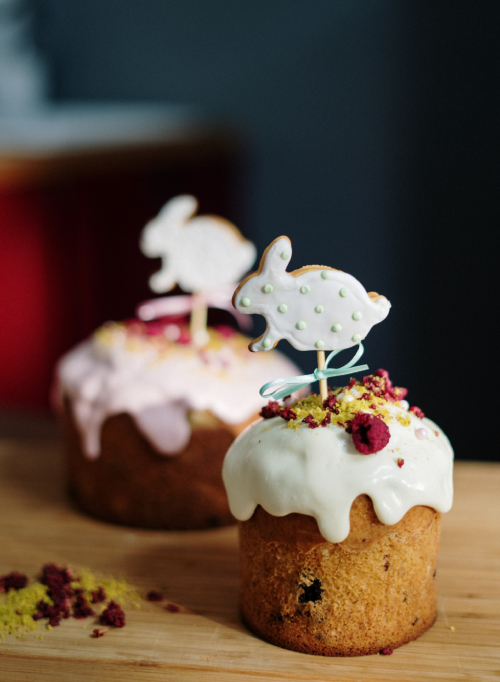 Focusing more on health and safety, many couples are opting out of the big cake this year, and are choosing to provide guests with their own teeny tiny 'isolated' cakes!
As part of the dessert menu, guests will receive small individual cakes of your choosing. All to be enjoyed from the safety of their place settings.
Tiny cakes. What's not to love!
Buttercream Brushstrokes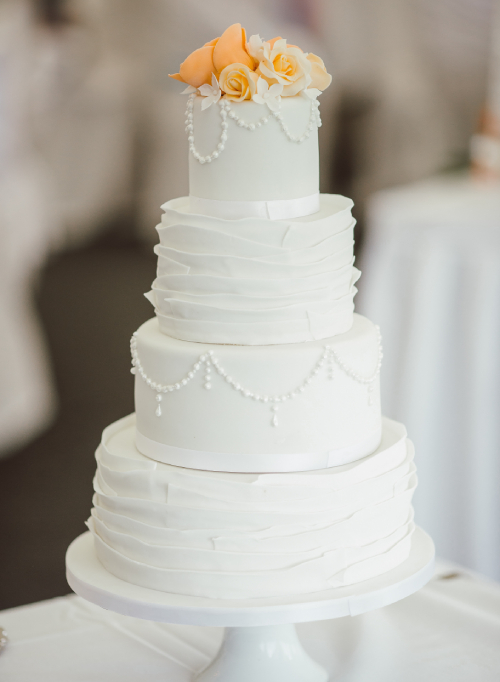 Here at Woodhall Manor, there aren't many words that we love to hear more than 'butter' and 'cream'. Especially when they're on a cake!
So, you'll be pleased to know that buttercream detailing is one of the biggest trends for wedding cakes in 2021. Delicate, detailed piping takes your dream wedding cake back to the basics in the best way possible.
If you're looking to find a cake with a timeless finish, look no further. Buttercream detailing is the perfect style for you!
Donut Cake?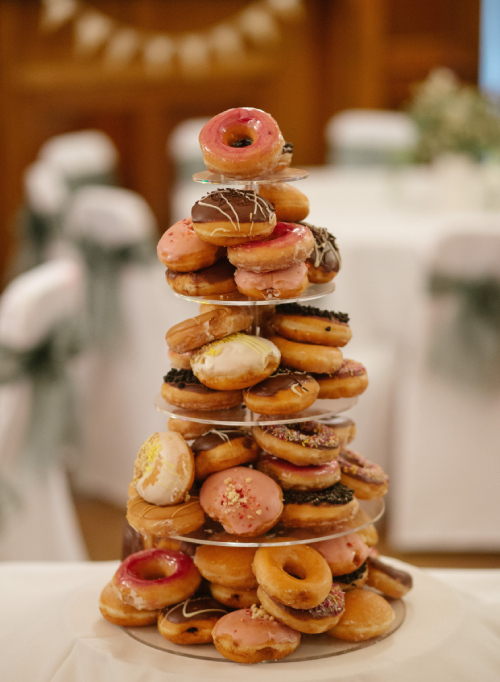 Whilst wedding cakes are lovely, some couples simply aren't interested in sticking to the status quo (and we love to see it!).
If you're thinking about stepping away from the 'norm' and trying something new, perhaps a multi-tiered donut cake would be the perfect substitute for you.
With various fillings and flavours to choose from, the many delicious combinations are endless.
And it doesn't just stop at donuts. Brownies, cookies, pies and even cheese (YUM) top the list for the best wedding cake alternatives. Quite literally taking 'cheesecake' to the next level!
And that's just a few of our favourite cake designs for 2021, the list goes on. There are hundreds of beautiful cakes available for whatever theme your wedding may be. But for now, it's time to indulge.