Food is a major part of any wedding and every couple wants to provide memorable dishes on their special day. Planning a wedding allows you to go all out with your food options and create a unique culinary experience that will give your guests something to remember! To inspire you, here are ten unique foodie wedding ideas to consider:
1. Hire a personal chef
Hiring a personal chef will ensure that you have great tasting, quality food on your wedding day – a must have on the special occasion! If you truly want to impress with your wedding meal, then you should consider hiring a Michelin star chef. That way, you can work together to create your ideal wedding menu and treat your guests to a variety of fine dining dishes that are delicious, unique, and perfectly presented. Your wedding venue may also have some contacts that they can recommend!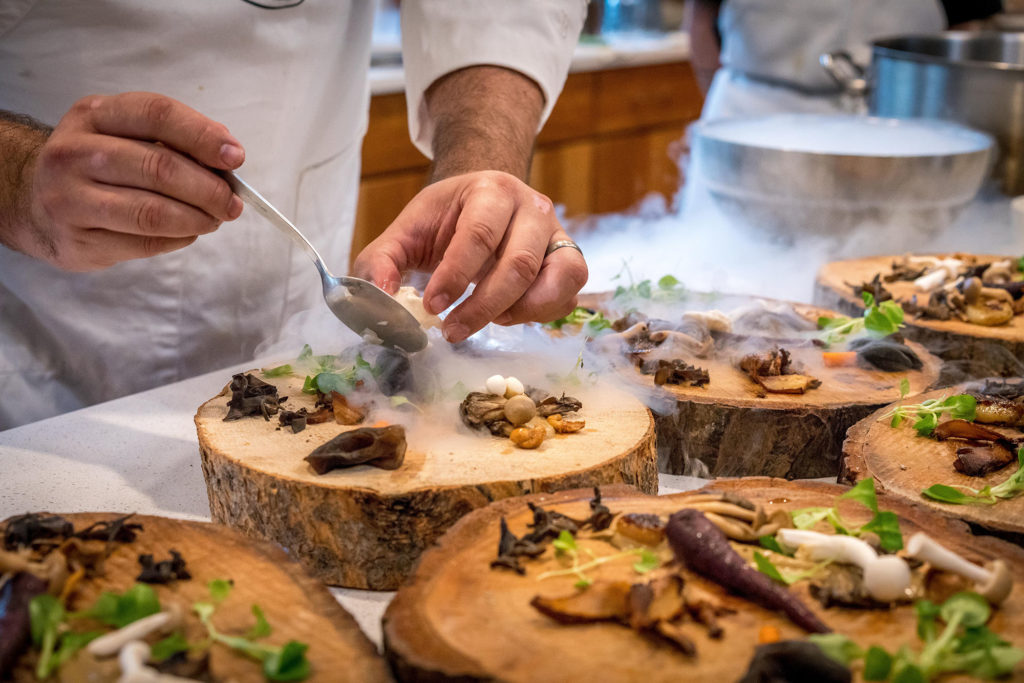 2. Get food trucks offering different cuisines
Food trucks have become extremely popular at weddings – and for good reason! These trendy vans serve up a huge variety of culinary delights – from Mexican burritos and wood oven pizzas to Indian street food and Italian gelato. Hiring a few different food trucks offers your guests a less formal and fun food option and can often work out far cheaper than traditional dining choices. It also allows them to try delicious dishes that they might not have heard of before!
3. Create a cake masterpiece
The wedding cake is an essential part of any wedding and many couples choose spectacular designs to create an eye-catching focal point in their reception venue. Over the years, there has been a shift away from traditional fruit cake, with more and more couples now choosing to experiment with unique flavours. Some couples are even choosing to ditch cake altogether and are instead opting for wedding cakes made from cheese wheels, donuts, or even pies.
4. Design a signature cocktail
You can give your wedding day a personal touch by offering your guests a signature cocktail created by you and your partner. Or, you could offer a drink that is meaningful to your both i.e. the drink you had on your first date. The best part is that you can have lots of fun experimenting with different cocktail mixtures to offer during your drinks reception.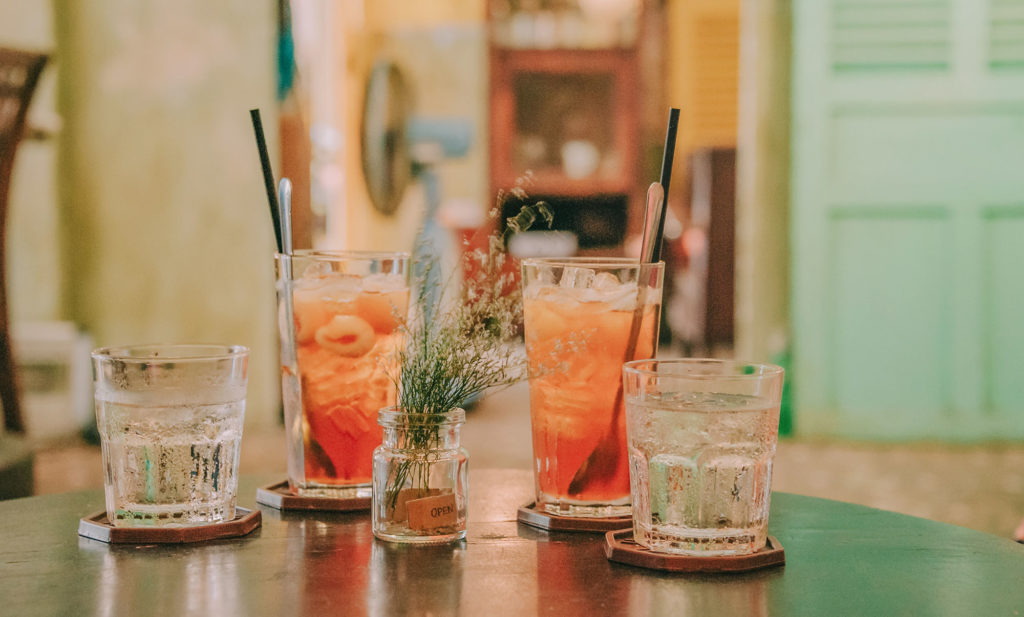 5. Create a dessert bar
If sweet treats are your favourite then why not create a dessert bar featuring all of your favourite goodies? This will allow your guests to try a variety of food and mean there's likely to be something for everyone to enjoy.
6. Provide a sundae station
Sundae stations are a fun way to offer your guests a tasty treat on your wedding day. Provide a few ice cream flavours including a few classics like vanilla and chocolate as well as extravagant flavours such as salted caramel or tiramisu. Once your guests have chosen their ice cream, they can make it even more delicious with their choice of sundae sauces and toppings. If your wedding includes young children, they will be sure to love this!
7. Make your own wedding favours
Making your own wedding favours is extremely cost-effective and will add a thoughtful touch to your special day. Edible wedding favours always go down well with guests and are typically easy to make at home. Some of the most popular DIY food wedding favours include alcohol, jams and chutneys, chocolate truffles, and macaroons.
8. Offer an evening BBQ
BBQ's can be a great relaxed food to enjoy as the night goes on, especially for summer or outdoor weddings – just make sure Dad doesn't interfere! Another great benefit of choosing a BBQ is that it is relatively cheap to provide. If you're planning a BBQ, then make sure that you remember to include options for any vegetarian or vegan guests.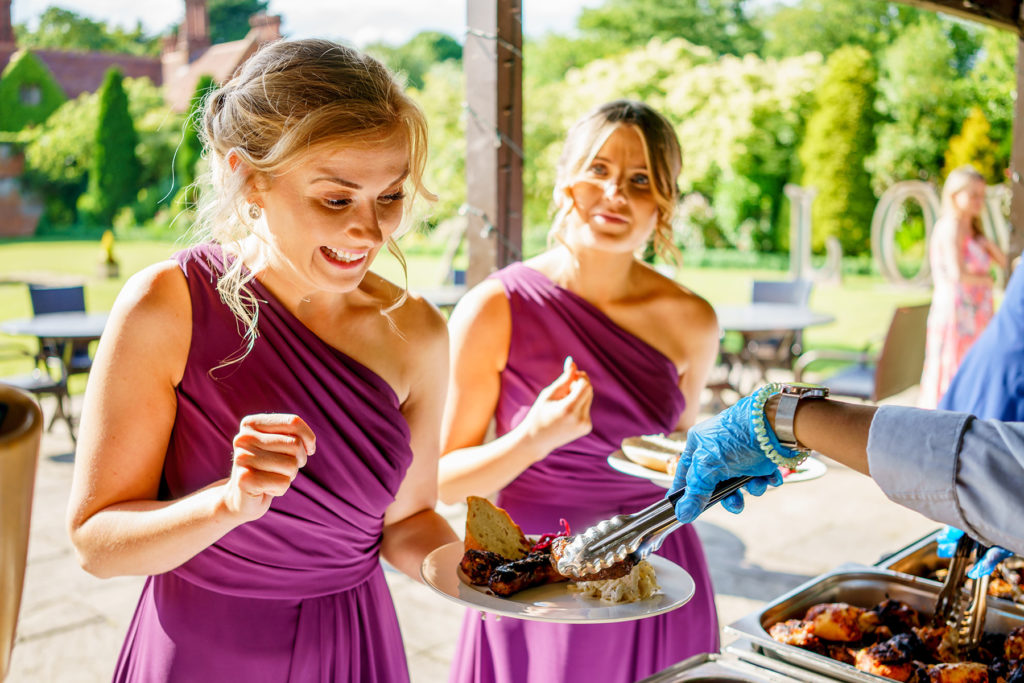 9. Design an informative menu
Creating a menu that offers guests an insight into the food you're serving means you can make your guests expert foodies like yourselves! Let your guests know if the food was locally sourced, how the ingredients come together and anything special about the dishes you're serving. A meal and an education!
10. Splurge for experimental wedding catering
If you truly want to give your guests an unforgettable culinary experience, then you should consider splashing out on experimental wedding catering. Many catering companies are now using a combination of sight, sound, and creative menus to create immersive dining experiences that offer something unique to traditional wedding menus. It may not be cheap, but it's certainly worth it if you want to seriously wow your guests.
11. Arrange wine tasting
Most weddings have wine but you can make your celebration unique by offering your guests a wine tasting experience. Speak to your wedding venue to see whether this is something they can help you arrange. Some venues also offer no corkage packages, so you may be able to purchase your wine yourself and then create your own DIY wine tasting station.
12. Create a grazing board
Grazing boards have become incredibly popular in the last couple of years and they're not going away anytime soon. Grazing boards are beautifully organised selections of food that are presented on a slate or even just on a table. They create a stunning display and allow your guests to choose what they'd like on their plates.
13. Consider cake pops
Does having a massive wedding cake seem a bit over the top to you? If so, cake pops could be a great way to satisfy your guests with a sweet tooth. They can be beautifully decorated and are great in a post-covid world as they have little handles meaning your guests don't have to eat with their fingers.
14. Encourage your guests to cook
If you want to encourage your guests to get their hands dirty and cook for themselves by combining their favourite ingredients then you could offer a table where they can do just that. Present a variety of ingredients to them and provide something to cook on such as a grill or raclette, you could even get a personal chef to cook up your guests creations.
15. BYO food
Have a big family that's willing to contribute to your wedding day? Get them to cook up their speciality dish and bring it along for a varied family-style buffet! You'll be surprised by the amazing dishes your friends and family can create.