Throwing a summer party this year? Whether you want an all-out Festival-feel takeover or an intimate dining experience, we have the ultimate checklist to help you plan every step of your day.
Step 1: The Space
Let's kick off your Summer party checklist with the venue. You'll need to think about how many guests you want to invite and how much space you'll need. Woodhall Manor can handle anything from a small dinner to a full-on party with over 300 guests. Nestled within 9 acres of landscaped grounds, your guests will have plenty of space to roam in the sun.
Step 2: The Theme
Next up on your Summer party checklist is the theme; this will inform every other part of your day. With exclusive use of our 9 acres of landscaped grounds why not create your own festival-style soiree? Dress the gardens with hay bales, blankets, and cushions to create little 'chill-out' nooks for the ultimate festival vibe. There are many different ways to create a festival wedding. For a more formal dining experience, our banqueting suite will also make a winning impression.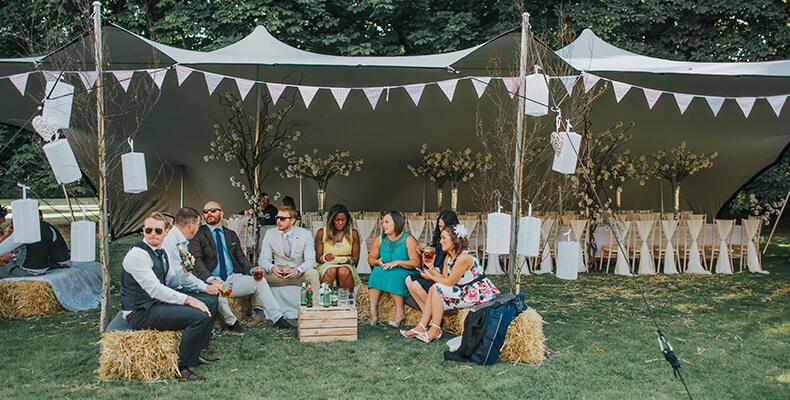 Step 3: The Music
No party is complete without a killer soundtrack! We have a fantastic sound system that can play your prepared playlists. For the real festival experience, you could even hire a live band or individual musicians to play throughout the day. A big hit this year has also been tribute acts. Popping up everywhere, you can hire anyone from ABBA to Pink Floyd impersonators.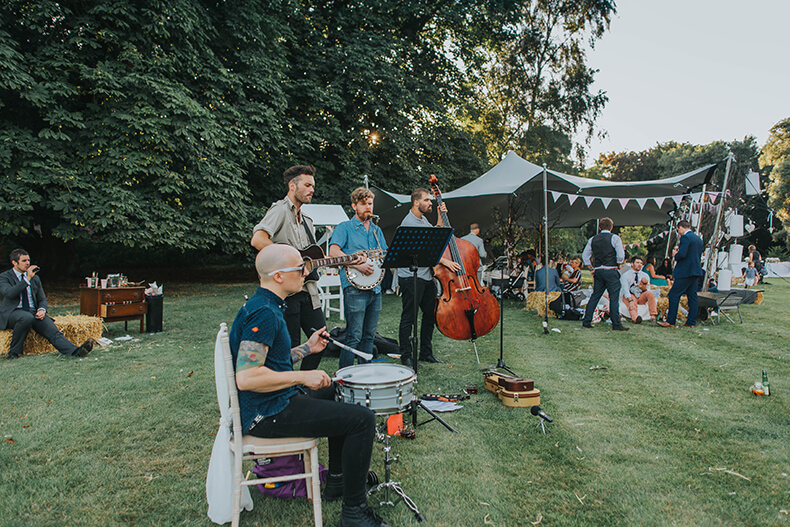 Step 4: The Feast
Dreaming of theatrical cooking at the table? What about a glorious street food feast? Whatever you've got in mind our team at Woodhall Manor will make it happen. We also offer a delicious selection of canapes and grazing stations that you'll find here! Check out our delicious menu options here.
Step 5: The Drinks
Pimm anyone? Our cocktail stations have proven to be a big hit at our previous parties. Large Kilner jars are filled with fresh strawberries, freshly sliced cucumber and mint leaves – nothing says summer quite like Pimms in the garden! For your little guests we can make up a lemonade stand. These will keep your guests happily topped-up throughout the day.
Step 6: The Entertainment
Now that your guests are fed and watered – its time to sort out the entertainment! We have found that you can't go wrong with a magician. Close-up magic helps break the ice amongst guests who haven't met before. If you're expecting little ones on the day, it's worth booking a magician who performs for children too. For more entertainment ideas speak to our expert event planners.
Step 7: The Activities
No Summer party checklist is complete without setting aside a plan for daytime activities. Why not keep your guests happy and mingling throughout the day with a selection of lawn games? In this era where screens are robbing us of face-to-face interaction, a board-game revival has been building. Picture your guests laughing and chatting over a classic game of giant Jenga or Kinect 4. You could be really fancy and have us set-up a game of croquet!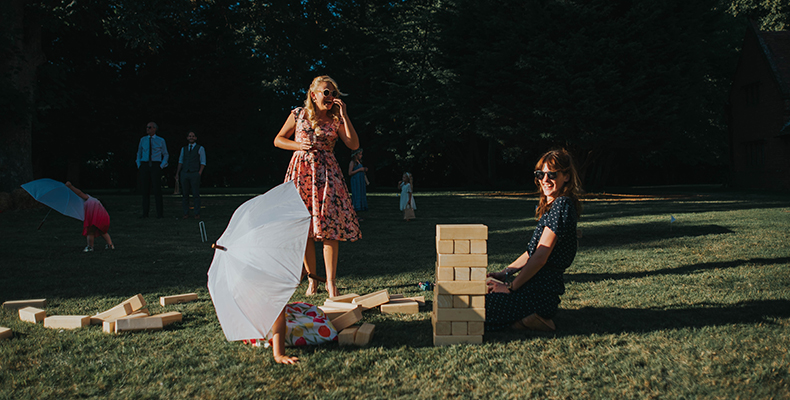 Step 8: The Plan B
Every Great British party is at risk of a downpour – so be prepared and set yourself up with a solid Plan B. Here at Woodhall Manor we can either set up a marquee in the grounds or help you move the party inside. The garden terrace leads directly into the Ballroom, so your guests can dip in and out on days when the weather can't make up its mind.
Step 9: The Accommodation
If your guests are travelling a distance, they'll want somewhere to rest their heads at the end of the night. At Woodhall Manor we love a sleepover – it's an amazing place to stay! We can happily host up to 30 guests within our en-suite bedrooms. Need more space? Look no further than our two-bed Cottage.