Sunday was a haze of blurry eyes and fallen bunting as we all recovered from the fun and frolics of Prince Harry and Meghan's wedding.
As we know, their wedding didn't follow all the traditions of a royal wedding. They added their own spin on what they wanted from their day.
During the Queen's luncheon at Windsor Castle, the couple and their guests dined on a selection of bowl foods. Their menu varied from langoustines wrapped in smoked salmon to croquette of confit lamb and roast vegetables.
This led us to thinking of how far weddings have come regarding culinary requirements.
Exciting evening options for the adventurous
The evening food offers such a glorious choice of creative cuisine.
You can indulge in the classic hog roast with all the trimmings, enjoy a selection of treats from our BBQ banquet or relive your travelling/holiday memories with some street food.
We also offer a more theatrical option of our live cooking sessions. These creative feasts are prepared before your very eyes delivering tantalising aromas of India, Spain, Mexico and the Orient.
These sessions add a little drama and spice to your evening, providing entertainment and let's not forget the delicious final treat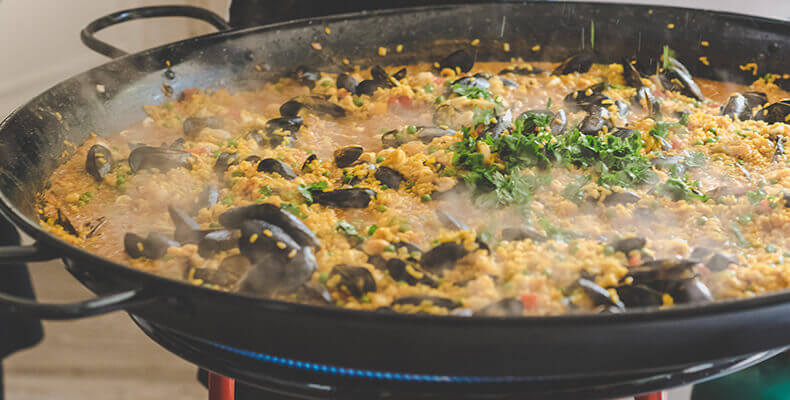 Canapes to get the party started
Between the ceremony and wedding breakfast, there is time for a rest with drinks around Woodhall where you can mingle and catch up with guests.
This is a great time for some creative canapes. Our chefs adapt the menu to suit the time of year, providing seasonal goodies.
Our personal favourites include mini fish and chips, sweet treats such as mini ice cream cones and the ever-popular donut wall. When we are feeling more decadent the oysters are to die for.
Like the Prince and Meghan's bowl foods, canapes are ideal for easy eating and adding an element of fun to your event, giving you chance to relax with your nearest and dearest.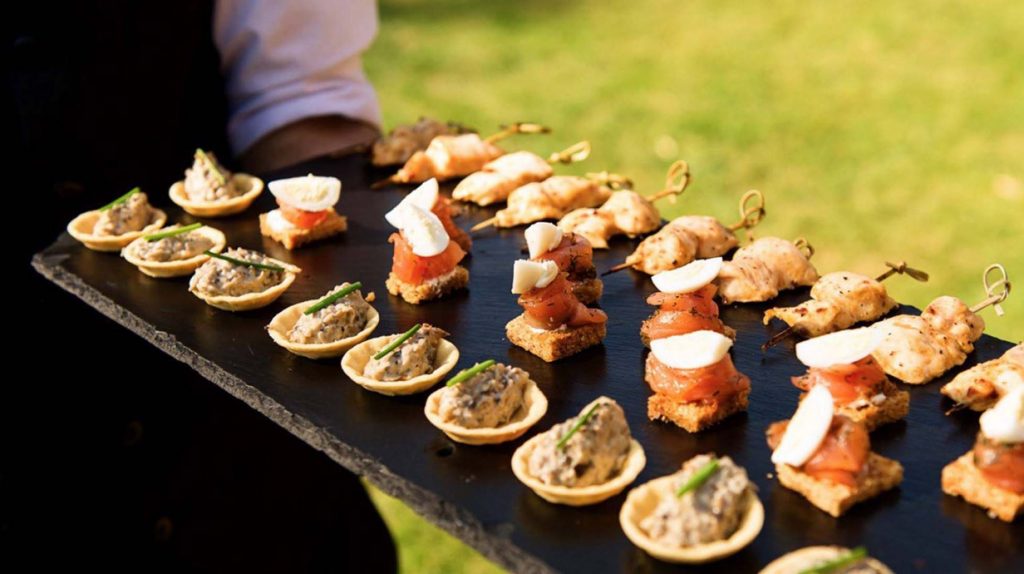 Mouth Watering 3-course meal to toast the newly weds
The wedding breakfast is the perfect time to take a weight off and indulge a whole host of delicious foods.
Our flexible menu caters for all unique requirements with options for vegetarians, vegans and for those who are gluten and dairy intolerant.
The sourcing and quality of the ingredients have become very important to our guests, and we are always pleased to put their mind at rest and assure them that our food is always locally sourced and of the highest quality.
Join us for a drink
To us, your menu should offer an all-round experience to be celebrated by all. Our drinks choices ensure you have a list of wines to compliment your food choices.
Drinks can also be used as a feature as part of your wedding evening. We would love to get creative with you and go through options of a gin & tonic station, rum station or even a pimp your prosecco stand and don't even get me started on the fact we have a champagne bath!
These are all great talking points and offer a unique edge to your day.