Are you celebrating a recent engagement, or are you desperately hoping your loved one is about to pop the question? For men everywhere who have no idea what ring to choose, this could be just what you're waiting for! Whatever your status, we know you all love a good nose at the engagement rings of the rich and famous. So, we have rounded up their favourite engagement rings, in fact, some of the most gorgeous celebrity engagement rings ever.
1. Kim Kardashian
Known for her love of bling we weren't exactly surprised when Kim Kardashian's other half Kanye West proposed with an eye popping engagement ring. West worked with Hollywood hot shot jeweller Lorraine Schwartz to source the perfect stone and create this sensational ring.
The main attraction is a flawless cushion cut diamond of some 15 carats set high above a thin diamond band. Kanye wanted to make it seem as though the diamond was floating without a support and worked alongside Schwartz to turn his dream into reality. We imagine Kim was floating on air herself once she saw the size of this staggeringly beautiful ring.
Value: Kanye reputedly spent a cool $1.6 million.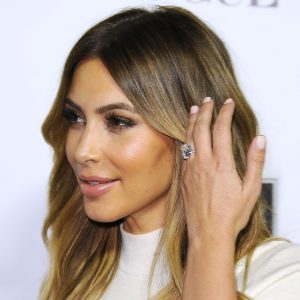 2. Pippa Middleton
Poor Pippa, not famous for her talents or achievements, she is known the world over for her perfectly pert posterior that wiggled its way down the aisle when her sister married Prince William. Now, her fame has extended to the details of her own nuptials and in particular, the stunning engagement ring presented by her hedge funder boyfriend James Matthews whilst the pair were on holiday in the Lake District.
Designed with a nod to art deco style Pippa's ring features a 3 carat Asscher cut diamond surrounded by round brilliant stones in an octagonal design. The setting is classic platinum and James designed the ring himself with the help of a top London jeweller. With its unusual style and showstopping stone, we think he did a pretty good job!
Value: Pippa's rock set James back an estimated £200,000.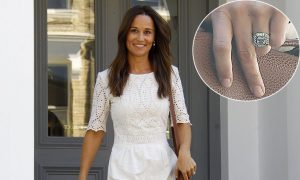 3. Lady Gaga
It's possible Lady Gaga's engagement ring was bought from acclaimed jeweller Tiffany & Co. given that the star features heavily in their advertising campaigns. Surely her fiance Taylor Kinney would have got some sort of discount?
Gaga accepted Taylor's proposal on Valentine's Day 2015 and with it, an exceptionally large heart shaped stone set on a delicate diamond band. We've got to be honest and say it's not what we would choose, but the sheer size and sparkle factor means it has to make our round up of awesome engagement rings.
Value: If you want a ring like Gaga's you'll need around $500,000.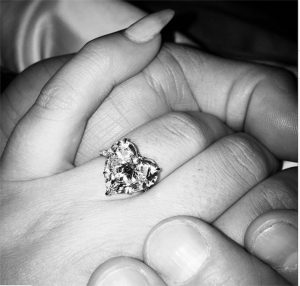 4. Kim Sears
Kim has been Andy Murray's rock for many years and a doting girlfriend who travelled the world watching her partner play tennis, tournament after tournament. Finally, after nine years of dating, Andy proposed with a diamond that was definitely worth waiting for!
The tennis ace chose the ring himself saying he wanted a statement piece. The large 3 carat round brilliant stone is surrounded by a halo of tiny round diamonds all set on a diamond and platinum band. It's an eye catching piece due to its high setting and sheer size so we think the now Mrs Murray must have been delighted.
Value: This statement piece likely set Andy back around £200,000.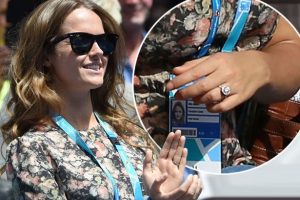 5. Blake Lively
When Ryan Reynolds proposed to Blake Lively he did so with one of the most gorgeous rings we've ever seen. A truly sensational pink diamond that was made by popular jeweller to the stars, Lorraine Schwartz.
With a central 12 carat pale pink diamond, the ring setting is rose gold that features pave and micro diamond bands to give an art deco feel. Thanks to the rarity of pink diamonds and the enormous size, Blake's engagement ring is also one of the most pricey engagement rings we've ever fallen in love with.
Value: You'll need around $2 million dollars. Enough said!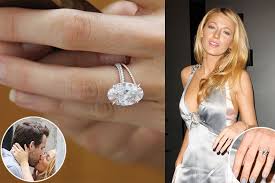 6. Catherine Zeta Jones
It came as a surprise to many when serial lothario and Hollywood icon Michael Douglas popped the question to Darling Buds of May Welsh sweetheart Catherine Zeta Jones. Choosing New Year's Eve 1999 to ask her to marry him, it was always going to be a stylish and memorable proposal.
Michael presented Catherine with an antique diamond ring by famous jewellers Fred Leighton. The one of a kind ring has a whopping 10 carat marquise cut diamond surrounded by 28 smaller diamonds and is set in platinum.
Value: This beautiful gem is valued at around $1 million.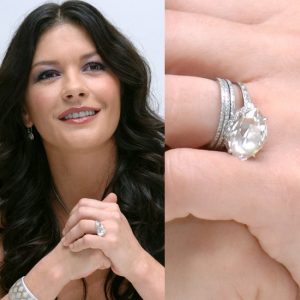 7. Mariah Carey
Pop diva Mariah Carey was recently engaged to James Packer but sadly only briefly. Having been married twice before, perhaps she was hoping for third time lucky? However, at least the ring didn't disappoint!
We can't imagine how Mariah managed to lug her hand around given that the emerald cut diamond was an eye-popping 35 carats! There are single stones on each shoulder all set on a plain platinum band. To put the size of this rock into context, Mariah's most recent engagement ring is larger than the combined weights of both Beyonce and Kim Kardashian's epic engagement stones!
Value: Hard to tell but likely to be in the region of $10 million.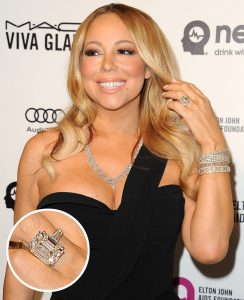 8. Amal Clooney
The woman who tempted long term bachelor George Clooney to walk down the aisle has to be someone special so duly, she deserves a seriously special sparkler! Amal's profession is as a renowned human rights lawyer so aptly, George selected a stunning ethically sourced diamond for his leading lady.
With a flawless emerald cut stone and classic tapered baguettes on its platinum setting, the central stone is rumoured to be around 7 carats. Apparently the new Mrs Clooney thinks the ring is too large to wear to work so only wears it socially. What a waste. We'd wear it every day George!
Value: Probably around $750,000 for this ethical engagement ring.