Get creative
If you're recently engaged and the excitement of buying rings and setting dates is all a happy blur, you're probably beginning to realise that planning a wedding can be an expensive business. If you're not careful, spending can quickly spiral out of control. There are lots of ways to curb the spending by putting your creative skills to the test.
Invitations
One way to quickly save a packet is to create your own invites. It also gives you the opportunity to create something really beautiful and unique to your special day. If you need some creative steer, then check out the many kits that are available to buy online. If your creative talents are limited, then a pack is a great idea as you simply choose a style, provide the wording and then simply assemble all the elements such as ribbon and detailing by hand.
For printed styles, there are lots of great online print companies that allow you to adapt set templates to fit your colour scheme. As well as choosing card and envelope colours, you can customise the ink colour and fonts to suit. You simply upload your wording, and they'll do the rest.
If you're really keen to cut costs, why not do away with printed invitations altogether and go for a paperless option? As well as being highly cost-effective, it's also an environmentally sound choice that even does away with the cost of postage!
Table Numbers
For your table numbers or names, there are loads of DIY options and you can get as creative as you like. If you're handwriting the names or numbers, then add a personal and creative touch by creating card holders from old wine corks, pine cones, or even individual apples. You can spray paint these gold or silver for a touch of glamour, or any other colour that fits with your scheme.
Home printers are of a good enough quality to print out name and numbers in your selected font. Or why not use empty bottles or jam jars tied with a pretty ribbon and a printed card tag?
Plant pots, bottles and cans can provide countless options for customisation and can be painted, wrapped in ribbon, or covered in hessian for a more rustic, country look.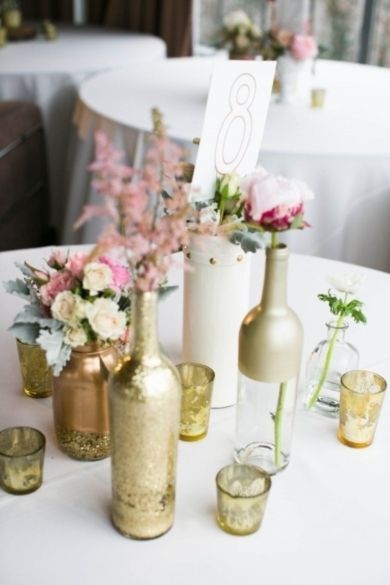 Place Settings
Time to rethink the simple white tent cards with handwritten names! We've seen lots of wonderfully creative ideas here at the Manor, from slate mats with names handwritten in chalk, bunches of herbs tied with ribbon and card tags, and even miniature bottles of whisky with guest's names printed on personalised labels.
Get creative and think about ways that you can make memorable and unique place settings that people will cherish. The internet is an amazing resource, so look at what others have done, and then put your own unique twist on it.
There are plenty of materials that you can source for free such as leaves, pebbles and feathers for a natural scheme. Or, if you're a keen baker, why not create individual iced biscuits for each guest? Do bear in mind that you need to be realistic if you're creating everything from scratch. Intricate and time-consuming creations are fine for wedding parties of 25, but will definitely become tedious if you've invited over 200!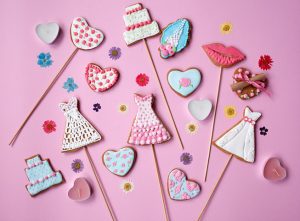 Favours
If your sister is a talented artist or your dad makes a mean sloe gin, then definitely enlist their skills when it comes to creating favours for each of your guests.
If not, don't panic, there are still plenty of individual options that are cheap and easy to create. Why not make a CD of your favourite tunes, and include the playlist from your wedding? Or maybe create bags of retro sweets with personalised stickers printed with your names and the date, or maybe a favourite quote.
There are plenty of cheap options such as seeds packs, pencils, herb pots or cookies that can be personalised and packaged to give a personal twist. We'd also recommend not getting carried away with costly favours either. They make a lovely memento of the day but are by no means an essential element.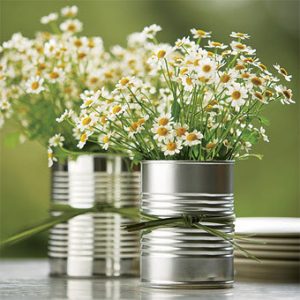 Cake
Never underestimate the lure of a home baked cake and all its imperfections. Try not to get fixated on a vision of perfection if your gran makes the greatest chocolate cake you've ever tasted. We think she'd be delighted if you asked her to create your wedding cake. If you've got any friends or relatives who love to bake, then this is their moment to take centre stage.
If you don't know anyone with cake baking skills, consider opting for a less traditional wedding cake to save money. A 3 tier extravaganza is great, but cupcakes, macarons and even doughnuts can be stacked to look like a tiered cake, and will almost certainly be a more cost effective option.
Decorations
Time to get all 'Blue Peter' and create some homemade bunting, painted bottles and jars, or even spray painted fruit. All of which can be easily achieved at home in the run-up to your big day. Rope in your friends and family and host some DIY evenings where everyone gathers over a glass (or three) of wine, to paint feathers, make papier-mâché balloons or thread cones.
Leave yourselves plenty of time and you'll enjoy the opportunity to catch up with people and share the excitement in the build up to your wedding.