So who likes wedding cake? Good news! When you're planning your day, choosing your wedding cake is a great excuse to indulge. When else can you feast on endless types all in the name of research? Indulge your love for the Great British Bake Off and learn the difference between Royal and buttercream icing. Our Woodhall Manor wedding planners have put together a list of their favourite options to help you choose a classy cake for your wedding day.
Naked Wedding Cakes
Oh yes, we're suggesting going naked all the way. Don't worry, everyone's modesty is intact. We're talking about a stunningly minimal wedding cake which exposes the cake's layers and filling. Forgoing the outer icing, these cakes are beautifully paired back with little more than summer berries or seasonal fruits as decoration.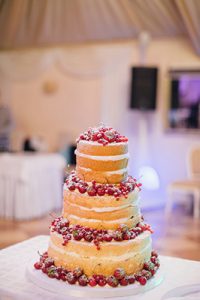 Painted / Illustrated Wedding Cakes
Let loose your artistic tendencies with a hand painted cake that's truly unique. Choose colours that tie in with your theme and go abstract like a piece of modern art, or replicate a design that holds special significance to you. Recreate the design from your invitations, the location where you got engaged, or your initials intertwined. Talented cake artists will even be able to create painted representations of the happy couple.
Lace Wedding Cakes
We love the current trend for delicate lace effect wedding cakes. Here, icing is applied to mimic the detail of a complex lace pattern, maybe picking up on the lace detail from your wedding dress. Sugar flowers and patterns are wound around each tier in perfect symmetry. For an unusual effect, layer the white lace layer over the top of coloured icing to create a contrast and highlight the intricacies of your lace pattern.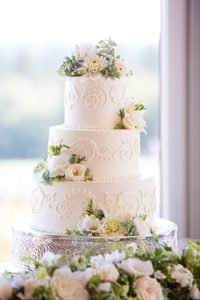 Ombre Wedding Cakes
From clothing to hairstyles, fashionable ombre is everywhere. An ombre wedding cake applies the same technique that creates a graduated colour from the top tier to the bottom. This option is really adaptable as it works with any colour scheme. You can create a transition from a pale colour through to a deep, rich colour, or simply graduate from a pale nude, to a crisp, pure white. The beauty of this style is that you can make it as subtle or as dramatic as you want.
Colour Drip Wedding Cakes
A relatively new trend is the colour drip cake. As well as looking distinctive, these wedding cakes benefit from the introduction of another flavour to your cake. Your tiers are iced in buttercream or fondant as normal, and then a caramel, rich chocolate or fruit ganache is dripped down the sides.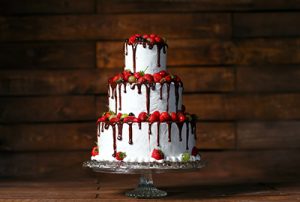 Rosette Wedding Cakes
The trend for rosette cakes shows no sign of waning anytime soon. On these cakes, dozens or even hundreds of sugar roses are used to cover the entire cake, creating a beautifully textured effect. For maximum impact and an elegant look, stick to ivory or white roses.
Cheese Wedding Cakes
This is our personal favourite! A tiered tower is constructed from your favourite artisan cheese selection creating a perfectly balanced masterpiece to share with your guests as an additional course. Perfect for couples who don't have a sweet tooth, who don't want to miss out on the opportunity to cut their cake and make a wish.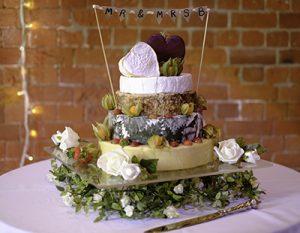 So can you pick your favourite? We hope that we've helped you in your choice, and given you some new options that perhaps you hadn't considered. Our wonderful wedding planners at Woodhall Manor have oodles of experience and helpful hints and tips to help you plan your perfect day. Give them a call to book a viewing of our stunning Manor on 01394 411 288.
Alternatively, drop us an email at info@woodhallmanor.com and we'll get right back to you.