Top Tips for Wakes & Life Celebrations
No one wants to think about organising a funeral event, but unfortunately, at some point, most of us will have to face the daunting task of planning the funeral of someone close. At Woodhall Manor, our gorgeous venue is the ideal spot to make your final farewells, and with our guidance, you can throw a positive celebration of life event, rather than a mournful gathering.
Personal Touches
We encourage guests to ignore tradition and think of their wake in more positive ways. Rather than mourning someone's passing, why not host 'David's Farewell Party' and party in his memory rather than mourn his absence.
If your great aunt loved to go out for afternoon tea, then you've got the perfect solution for her funeral party catering – simply serve afternoon tea to your guests in her honour knowing that you'd not only have her blessing, but that the significance of your choice will be truly appreciated by all those who attend.
Comfort Food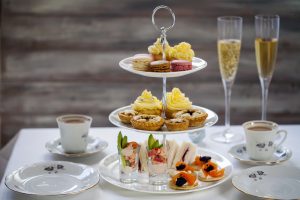 And while we're thinking about catering for a wake, it's important to remember that now isn't the moment for anything overly complicated or fussy. It's going to be a challenging day for many, and when you're feeling low and fragile, what people crave most is comfort food and endless cups of tea.
At a winter wake, hearty food will keep everyone's spirits up, and in warmer months, a great spread of sandwiches, pies and a cheese board will provide much needed fuel. Finger food is perfect, and a buffet gives people the opportunity to graze as and when they feel peckish. Whatever you choose, make sure there's plenty of cake. It's a great source of comfort for practically everyone!
Alcohol
There's a fine line when encouraging your guests to drink, but for most, a stiff drink is necessary to take the edge off a deeply distressing occasion. If you're making a speech, have a small drink to help steady your nerves before you speak. You should definitely make a toast to absent friends, and almost certainly have another one, simply because it's what he or she would have wanted you to do. A glass of fizz is absolutely encouraged to toast happy days and joyful memories of a loved one.
Quiet Spaces
When choosing a venue, try and opt for somewhere that gives you flexibility and has some quiet, private spaces where guests can go for a moment of quiet reflection. Ideally, pick a venue where you have a number of rooms at your disposal so people can mingle, or take time alone as they wish.
Comfortable Surroundings
Try and select a venue where people will feel at home and relax as everyone will naturally be feeling out of sorts. Opt for plenty of space to mingle, perhaps a garden or outdoor space so people can get a breath of air, and indoors you need lots of comfortable seating and homely furnishings.
Privacy
It's really important that your venue offers you the privacy that you and your group will need. If you can, opt for an exclusive use venue like Woodhall Manor where you've got the freedom to book the entire venue and take over the place for the duration of your celebration of life event.
If you are booking a venue where you won't have exclusive use, ask the events team to make sure that you have the use of an area that can be made private and closed off from the rest of the hotel to avoid any disturbances.
Music
We highly recommend booking a musician or group for the event as this helps create a pleasant atmosphere and removes those awkward silences when no one knows quite what to say. If you don't have a live music option, then a playlist of your loved one's favourite artist is a nice way to pay tribute to their passing.
Planning
You'll have lots to think about, so always opt for a venue with a competent team of events planners to help take the pressure off you. There are plenty of elements that you will need to arrange, so pass over the responsibility for everything else to your venue. Don't feel obliged to try and do everything – you've got enough on your plate at this time.
We firmly believe that it is possible to throw a memorable, extraordinary and joyful celebration of life event and our Woodhall Manor events planners are here to help you at this difficult time. For more information, give our dedicated team a call on 01394 411288.