Is it just us or are all weddings starting to feel the same? Your wedding day should be a day to remember, so follow Woodhall Manor's advice on how to break with wedding trends and avoid hosting a copycat wedding. From our extensive experience of hosting exclusive use weddings, we've put together this handy guide:
Step away from Pinterest
We do LOVE browsing Pinterest for inspiration, so don't get us wrong, but with wedding planning, it's reaching saturation point. With everyone seeking out the same boards, and being influenced by the same wedding trends, there's a very real risk of creating a wedding day that shares too many elements with everyone else.  Now is the time to get personal. Think outside of the box and find some ways of celebrating that say more about you as a couple than about the current wedding trends.
Think about your hobbies and interests and try and find a way of introducing these into your celebrations. Choose a drink that you actually enjoy together, and decor that is meaningful to you, from Candelabras to Fairy Lights or Personalised Bunting and Blankets for your guests,
the options are endless!
To really ensure you're not simply following the crowd with the current wedding trends for using giant illuminated initials of the Bride and Groom why not put a twist on this idea with giant illuminated letters that can be used to spell out something meaningful to you as a couple – your favourite place on earth perhaps, or the name of the bar or restaurant where you had your first date together?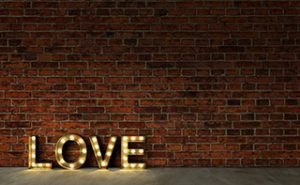 It's about your guests too
Yes, your wedding day should be all about you and your other half, but it is also a day of celebration for your guests. Whether you're holding a small, intimate occasion or going all out with invitations for hundreds, you want everyone to enjoy themselves. The summer can mean a continuous stream of church weddings, evening only invites, and full day affairs so if you want to stand out, you're going to need to break free from the wedding trends followed by your peers, and treat your guests to an event they will remember for all the right reasons. If the weather is good then why not have a Lawn Games tournament with Giant Jenga, Boules or Croquet.  Everyone can get involved with playing and it's a great way to get guests from different families and social circles to mix and get to know each other.
Another easy way to make your mark is to think more creatively in terms of the wedding breakfast. Why not abandon the formalities and let guests choose where they sit for themselves? There's nothing worse than realising you're on a table with no one you know, and facing an afternoon or evening of pleasant small talk with people you will probably never see again.
Whilst a formal wedding breakfast suits some couples you might want to lay on a BBQ Banquet or Hog Roast and let people relax and mingle with whomever they choose while they eat. Offering plentiful food stations with Street Food Choices or Live Cooking is another favourable option as people can eat as little or as much as they choose and it also gives people the opportunity to try lots of different dishes and mingle with other guests at the same time. We guarantee you'll be the most popular wedding hosts this season!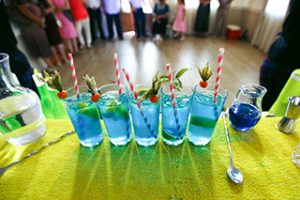 Steer clear of one-upmanship
If you're getting married at roughly the same time as your friends, there is a danger you'll start to try and compete with one another. There's no need for any 'Bridezilla' behaviour, however easy it would be to fall into this trap. Whatever you do, don't compare your wedding with anyone else's. It doesn't matter if your best friend is having a DJ and a harpist. It certainly doesn't matter if she's having 12 ice sculptures and you've opted for simple floral centrepieces. What matters is planning a day that represents you and your partner, and what matters to you as a couple.
Whilst you want your guests to have fun and enjoy themselves, there shouldn't be an expectation of laying on non-stop entertainment. You're not running a holiday resort and crucially, they're not paying you!  When it comes to entertainment, whether it's a simple music mix of your favourite 80's tracks, DJ or Live Band the important thing is to make the choices your own.
Your wedding should be an opportunity for everyone who loves and cares about you, to get together and celebrate your love and commitment.
At Woodhall Manor our expert wedding planners can help you plan a day that's right for you. Contact us on 01394 411 288 or email

[email protected]

 to discuss your ideas and arrange a viewing.
For more creative wedding ideas visit our Inspiration page regularly.