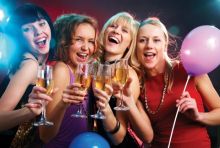 A hen night is a rite of passage and a landmark event in our lives. It signals the impending end of being single and a different phase in your life. It's also a good opportunity to spend quality time with your girlfriends, forget about wedding planning for a while and let your hair down.
There is a tendency now to be extravagant with a hen party. That's fine if everyone can afford it, but it isn't the only way to have fun. That's why we put this list together. To give you real options on which way you want to go.
Know your audience
The key to hen night planning is to know what the hen likes and what she wants to do. You can't plan a hen night without consulting the bride-to-be first, so get it out of the way nice and early.
Weddings are a unique time in our life where we throw off old habits and make changes. Or not. Just because the hen loved a night out on the town with a stripper before getting married, doesn't mean she will now. It's always best to check what kind of hen night she wants beforehand. You don't have to give her details, just ask her what's acceptable and what's not.
Now would also be a good time to work out who she wants to come on her hen night and who she doesn't too.
Quality doesn't have to cost the earth
Each of these tips lowers the cost and complexity of a hen night, making it easier and cheaper than ever to have a great time with the girls without breaking the bank!
First some quick tips
Check with everyone to see how much they can afford and what kind of thing they want to do. Work out an individual budget from there
Only invite the hen's nearest and dearest friends
Consider an overnight somewhere instead of a weekend away
Check for group discounts and use discount sites such as Groupon for further money-saving options
Hire a limo or minibus for the entire evening to save individual taxi fares
Let everyone know as early as possible what the plan is and how much it's likely to cost
Contact venues and see if you can get on the guest list to skip the queue and entrance fee
Plan it yourself
Unless you're society girls and want the best of everything, there really is no need to hire a party planner. Unless budget really isn't a consideration, it's more fun and more frugal to plan the hen night yourself.
Party planners can achieve amazing things given the right situation, but if you're trying to save money or control costs, now is not the time.
Party at home
Weddings are incredibly expensive so there will be occasions when a bride-to-be wants nothing more than to stay at home with her girlfriends. There is absolutely nothing wrong with that if everyone is up for it, so is well worth considering if that's what the hen wants.
Staying at home doesn't mean sitting around the TV gossiping over a glass of wine though. There are lots of things you can do to make it special. Such as:
Dinner party – If the hen loves a good dinner party, then have one. Cook a dish each, compete against each other or cooperate between you. Whichever works best. Have a Come Dine With Me night with scores, or keep it light-hearted and fun. It's entirely up to you. It can be classy, it can be messy and fun. You know your friends best, organise the type that would resonate best.
Cocktail party – A cocktail party is an excuse to dress up and drink up. If the bride-to-be likes cocktails, this could be ideal. If all the guests bring a bottle or two, or contribute to the bar bill, this is a relatively cost-effective way to party. Practice mixing cocktails, learn some exotic ones, get hold of a karaoke machine or sort out some entertainment and have fun.
Good old days party – Getting everyone together and having an old fashioned sleepover is another good and cheap hen night activity. Sitting round in your onesies sipping something nice and chatting about school, childhood, the teenage years, growing up and reminiscing is another great way to spend an evening. Just make sure there are plenty of tissues!
Those are just a few tips for an affordable hen night. If you come up with an idea you're sure the bride-to-be will appreciate, there's no need to spend a fortune. After all, all she wants to do is spend some time with her closest friends before her wedding. The rest is just window dressing!