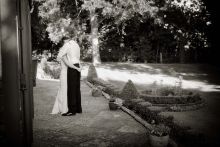 It doesn't have to be that way. It is possible to plan a wedding without getting too stressed out. There will be stress, there couldn't not be. It wouldn't be a wedding otherwise. However, follow these tips and your wedding planning should avoid the worst of the conflict, frustration and problems the average wedding produces.
1.Set the budget
The biggest area of stress in any wedding is the budget. Everything costs more than you think and there are hundreds of little details that will need a piece of that pie. Setting a spending limit well in advance and agreeing to stick to it is the single most useful piece of advice we can offer.
Sit down with your fiancée and your respective families if they are helping with the cost and hammer out a budget. Once you have a figure, break it down into specifics and assign percentages or real values.
For example, a reception will take up to 50%, dress and suits up to 10%, flowers up to 10%, entertainment up to 10%, ceremony up to 5%, transport 3-5%, invitations up to 2%, favours up to 2%, photographer up to 10% and extras up to a further 10%.
The mathematically aware of you will quickly see that potentially there is over 100% here. Part of your task is to juggle these costs and bring them down to an affordable level by compromising and saving money in the right places. Doing so in advance helps lower stress massively.
2.Make a plan
Wedding planning is a meticulous and detailed undertaking that gives you as much as you put in. It does take time and it does take effort, but the more you put into your plan, the easier it will be.
Once you have a budget, you can begin planning where to spend cash, where you can make savings, what you want, where you want it, when you want it. You can plan colour schemes, themes, the guest list and everything else long in advance. The more you have planned, the less stressed you'll feel.
3.Take control
Weddings are family affairs with lots of competing opinions and needs. Managing all those is your job as the happy couple. Taking control early on and letting everybody know who is in charge can save a lot of stress as the planning goes on.
You don't have to be mean about it, but it's important to assert yourself and let everyone know whose wedding it is and who gets the final say.
You will have family asking for certain things, requesting invites for their friends you have never met, to buy favours you don't like or hire a band you can't stand. By asserting control early on, family and friends will know they can make suggestions but should also learn that's where their rights end.
4.Meet and greet
One element of stress around wedding planning is the dependence on others to deliver on the day. That's why we suggest meeting all of your suppliers in person. Shake their hands, look them in the eye and discuss everything with them in advance.
It does take time and it does take effort, but having confidence in your suppliers gives you confidence that everything will be all right on the day. If you are sure they will deliver, you won't feel so stressed.
5.Delegate
Delegation may not come naturally to you but it's a very useful technique for managing the wedding planning as a whole and the stress it can generate. It's also one of the roles of your Maid of Honour and bridesmaids.
If you trust the people around you, let them help. As long as they have a very clear idea of what you're looking for and what you expect, delegate tasks to them to complete for you.
Having less to do yourself will allow you to take a step back and keep half an eye on the bigger picture. The more control you have over what's going on, the lower the stress levels will be.
There will always be an element of stress involved in wedding planning as it comes with the territory. However there is no reason why stress has to become too much to bear or interfere in your enjoyment of what's going on. After all, you're supposed to enjoy the entire planning process not just the wedding day itself!