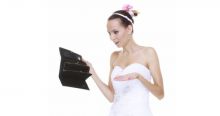 The key to getting what you want on your wedding day is a combination of matching expectation with reality and budgeting carefully. While it sounds a bit boring, budgeting and planning in advance goes a long way to helping you have the wedding day you dreamt of within your budget.
Here's how.
The requirements
Most weddings will have several elements that will all require more money than you originally thought. They are all as important as the other and would be very difficult to make compromises on.
Typically a wedding budget will need to cover:
Wedding attire
Ceremony
Reception
Photographer
Flowers
Transport
Rings
Cake
Miscellaneous, such as bridesmaid's gifts, centrepieces etc.
Contingency
That's a lot of mileage you need to get out of a budget however large it might be!
Getting real
Once you have said yes, the real planning begins. The first item on the agenda is setting a date and a budget. Be realistic and try not to go into debt to afford the wedding. There's nothing worse than starting married life having to worry more about money than you need to.
Research how much a dress costs, how much a church or civil ceremony costs, how much a reception will cost and so on. Check out suppliers in your area, visit bridal forums, ask friends and family who recently married and learn as much as you can about average prices for everything.
Once you know how much stuff costs, you can begin allocating funds accordingly.
Typically, a wedding dress will take up to 10% of the budget, the reception up to 50%, flowers up to 10% and transport around 5%. A contingency fund of a further 10% is sensible to cover last minute things or emergencies.
Discuss
Once you know how much everything costs and how much you have to spend, it's time to have a long discussion with your intended on where and how to spend the money. It's also a time where you're going to need to discuss the "C word," compromise.
It doesn't matter how large your budget is, a bride's dreams are always bigger. Now is the time where you have to hammer out how much you can truly spend on what.
Track
Once you have convinced your man that you really do need everything your way, you also need to keep track of everything. You would be amazed at how quickly you can spend money when you put your mind to it so you need to keep track of everything.
Make a spreadsheet or use one of the many online wedding budget planners to help keep an eye on what is being spent and where.
Watch for hidden costs
There are a range of costs involved in weddings that aren't obvious from the outset. It's important to bear these in mind when budgeting as they will quickly eat away at your contingency fund.
Consider stamps for sending invitations, dress alterations and steaming if they aren't expressly included in the price, staff overtime if your reception runs over and corkage fees if you're not using a full service reception venue.
Adapt
While your wedding budget should be a strict one, it also has to be flexible. If you overspend in one area, something else will have to give. Conversely, if you make a saving in one aspect of your wedding planning, you then have the freedom to spend it elsewhere.
It is important to have an overall cost set in stone, but be flexible about where you spend it. If you're tracking your spending, you should know at all times how much is going where and how much you have to play with.
Wedding budgeting isn't black magic but it does take thought and planning. As money is one of the main points of contention between partners, addressing the issue properly nice and early reduces potential for conflict. As boring as it may sound, budgeting and tracking is as important as choosing your dress!